Corporate
We're not going to tell you how to save the world. We are, however, going to recommend you use GPUs to do it. We're...
Read More
Corporate
Nemo. Monsters Inc. The Incredibles. When we watch Pixar's entrancing movies, characters and plots seem to fly across the screen at the speed of a small...
Read More
Supercomputing
An intriguing theme at NVIDIA's GPU Technology Conference this week is the GPU's impact on pushing the frontiers of neural networking closer to how...
Read More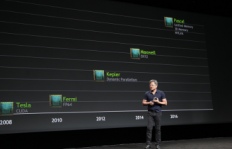 Corporate
During a keynote speech at our annual GPU Technology Conference in San Jose, Calif., NVIDIA CEO Jen-Hsun Huang updated our public GPU roadmap with...
Read More
Cloud Computing
Researchers have been able to advance computerized object recognition to once unfathomable levels, thanks to GPUs. Building on the work of neural network pioneers...
Read More
Cloud
IBM is taking a big step in applying GPU technology to help solve some of the biggest enterprise IT challenges. At next week's GPU...
Read More
Enterprise
We're always striving to make parallel programming better, faster and easier for developers creating next-gen scientific, engineering, enterprise and other applications. With the latest...
Read More
Cloud
Gravity-defying snowboard tricks, stunning figure skating routines and hard-hitting hockey matchups. Hundreds of millions of viewers across the world tuned in to catch all...
Read More
Mobile
The future tends to arrive ahead of schedule. Self-driving cars roam California freeways. Mobile devices pack the power of supercomputers from a decade ago....
Read More
Cloud
GPU sharing hit the big time this week with the worldwide availability of our NVIDIA GRID vGPU technology on Citrix XenDesktop 7.1 and Citrix...
Read More