Corporate
The tech industry has been ignited by three game-changing developments: The resurgence of artificial intelligence based on machine learning. The revolutionary experience of virtual...
Read More
Mobile
Construction zones can appear chaotic. Workers using bulldozers, diggers and other oversized vehicles swarm a site with the aim to blow up, tear down...
Read More
Mobile
Two students, separated by different cultures and thousands of miles, share a common language. They speak robot. Doctoral candidate Raffaello Bonghi splits his time...
Read More
Mobile
A billboard ad that guesses your age. A photo app that recognizes your face, or your pet's. A digital math aide that solves quadratic...
Read More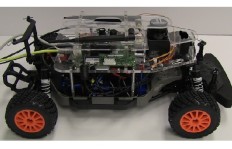 Mobile
Four robot mini-cars. A complex network of tunnels. A race against the clock. This was the final test crafted by an MIT professor for...
Read More
Notebook
Microsoft unveiled Surface Book, the software giant's first laptop computer, Tuesday. And it's packed with...
Read More
Corporate Responsibility
During a medical crisis, time lost can mean lives lost. The problem can be acute in developing nations, where the latest medical equipment, personnel...
Read More
Enterprise
If you're a designer, artist, architect or engineer, inspiration can strike anywhere. And when that happens, you need easy access to the right tools...
Read More
Gaming
A powerful GeForce gaming console in the cloud. And Spotify. And Google Fiber powered by SHIELD. And we're coming to Europe. And your home...
Read More
Gaming
You listen to music on Spotify. You watch movies on Netflix. Instant gaming gratification should always be a button press away, too. That's why...
Read More