Corporate
Deep learning. Self-driving cars. Virtual reality. If it's a hot tech area, it'll be at GTC. Secure your spot to share your work with...
Read More
Gaming
The best way to experience these new entertainment apps is with our SHIELD remote. So we're offering it with a $25 discount, for a...
Read More
Mobile
A new oven uses the NVIDIA Tegra K1 processor to make critical cooking decisions. So you don't have...
Read More
Gaming
There are now more ways to enjoy our smooth, tear-free G-SYNC display technology than ever before....
Read More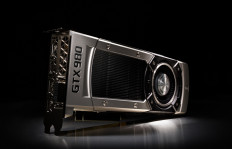 Gaming
NVIDIA has clinched its seventh straight year of "Best Choice Awards" at Computex, Asia's largest technology tradeshow. NVIDIA DRIVE, GeForce GTX 980 and NVIDIA...
Read More
Mobile
Homeroom. Spring Break. Autonomous robots. They're all top of mind for the kid roboticists who streamed into the FIRST Robotics Competition in St. Louis,...
Read More
Corporate
What does it take for a high schooler to build a competitive robot? Moxie. Brainstorming. And a kit of common parts, for starters. High...
Read More
Some at this week's GPU Technology Conference dream of building self-driving cars. Others want to build machines that can teach themselves to drive. Bingcai Zhang,...
Read More
Notebook
We're filling out today our awesome GTX 900M lineup by introducing the GeForce GTX 960M and 950M, which deliver never-before-seen levels of gaming performance...
Read More
Gaming
SHIELD's spot atop the performance charts has gone unchallenged. But we're not resting....
Read More