Corporate Responsibility
During a medical crisis, time lost can mean lives lost. The problem can be acute in developing nations, where the latest medical equipment, personnel...
Read More
Enterprise
If you're a designer, artist, architect or engineer, inspiration can strike anywhere. And when that happens, you need easy access to the right tools...
Read More
Gaming
You listen to music on Spotify. You watch movies on Netflix. Instant gaming gratification should always be a button press away, too. That's why...
Read More
Mobile
Now you can get our Maxwell GPU architecture — the world's most advanced — in Google's first Android device focused on productivity, the Pixel...
Read More
Corporate
Deep learning. Self-driving cars. Virtual reality. If it's a hot tech area, it'll be at GTC. Secure your spot to share your work with...
Read More
Workstation
Our new SHIELD Android TV entertainment device will play a starring role Wednesday during Khronos Group's 3D Graphics API "State of the Union" at the...
Read More
Gaming
The best way to experience these new entertainment apps is with our SHIELD remote. So we're offering it with a $25 discount, for a...
Read More
Mobile
A new oven uses the NVIDIA Tegra K1 processor to make critical cooking decisions. So you don't have...
Read More
Gaming
There are now more ways to enjoy our smooth, tear-free G-SYNC display technology than ever before....
Read More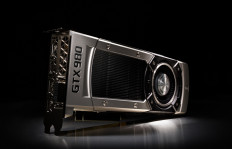 Gaming
NVIDIA has clinched its seventh straight year of "Best Choice Awards" at Computex, Asia's largest technology tradeshow. NVIDIA DRIVE, GeForce GTX 980 and NVIDIA...
Read More