Enterprise
Jason Cohen isn't the first man to look for the solution to his problems at the bottom of a beer glass. But the 24-year-old...
Read More
Enterprise
GPU technology toppled letters of the iconic "Hollywood" sign and lashed the Golden Gate Bridge with a tsunami in this summer's blockbuster San Andreas....
Read More
Enterprise
For VMworld this week in San Francisco, we designed and built an enormous "Tower of Power" that serves as a centerpiece for our presence...
Read More
Corporate
John Neylon thought he'd be an astronaut. But instead of probing space, he now explores new frontiers in cancer treatments, using adaptive radiation therapy....
Read More
Supercomputing
The National Strategic Computing Initiative, or NSCI, will require new levels of performance and power efficiency. GPUs are poised to...
Read More
Gaming
Our new flagship GeForce GPU is an amazing upgrade for gamers who haven't yet jumped to a Maxwell...
Read More
Gaming
We're announcing a new software development kit, GameWorks VR, to help VR headset and game developers build incredible...
Read More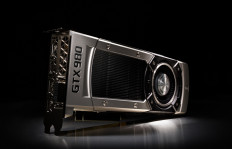 Gaming
NVIDIA has clinched its seventh straight year of "Best Choice Awards" at Computex, Asia's largest technology tradeshow. NVIDIA DRIVE, GeForce GTX 980 and NVIDIA...
Read More
Corporate
From streaming PC games at home to playing Android games on the road, the SHIELD tablet delivers a completely immersive experience. But the device...
Read More
Speeds and Feeds
If your day starts by crawling to work through traffic, you've wished that the four-lane highway could expand into eight. Applications experience traffic jams,...
Read More