Gaming
Today's introduction of GeForce GTX 960 brings Maxwell's powerful and efficient architecture to more gamers than ever before. The GTX 960 offers the same...
Read More
Supercomputing
How do the genes within, say, skin cells, or lung cells or muscle cells, turn on the functions they need? How do they turn...
Read More
Auto
There's no room for error in the fast lane. For automakers—with tens of thousands of employees, multinational production facilities and vehicles crafted for an...
Read More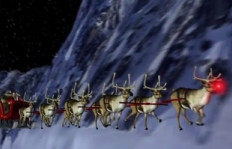 Corporate
If you look into the sky on Christmas Eve, hoping to catch a glimpse of Santa Claus on his reindeer-pulled sleigh, you won't be...
Read More
Supercomputing
Developing exascale computing capabilities is the key to next-generation scientific research, national security and ensuring economic competitiveness. That's why I'm thrilled that NVIDIA has...
Read More
Explainer
The numbers are big and so is the news. The U.S. Department of Energy today unveiled plans to build two GPU-powered supercomputers. Each will...
Read More
Gaming
We're announcing today new capabilities and new content for our SHIELD tablet, coming with a major software update. Android 5.0 Lollipop; a new bundle that includes...
Read More
Gaming
Streaming movies. Streaming music. Instant popcorn. Gaming gratification should always be a moment away, too. That's why we're introducing our NVIDIA GRID on-demand gaming...
Read More
Enterprise
When did you last look up at the night sky and really look at the stars? Astronomers at the U.K.'s Durham University are exploring...
Read More
Supercomputing
Feeds. Speeds. Code. That's not what supercomputing is about. At least, it's not all that it's about. It's also about detecting breast cancer, modeling...
Read More