Corporate
This is an important day for NVIDIA. For the first time since starting this company 21 years ago, we have initiated a patent lawsuit....
Read More
Gaming
Valve and NVIDIA have just made game streaming better than ever. Last week, Valve officially released support for hardware encoding on NVIDIA GeForce GPUs...
Read More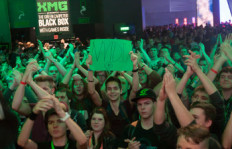 Gaming
Many wore NVIDIA t-shirts. Some wore the NVIDIA claw shaved into their hair. And one fan decided it was the perfect place to propose...
Read More
Gaming
The world's biggest gaming show is bigger than ever. Gamescom's organizers estimate the show will draw more than 375,000 this year. That's well over...
Read More
Gaming
With the help of NVIDIA engineers, Dolby has put Epic's "Elemental," Unreal Engine 4 demo on its new "extended dynamic range," or EDR, display....
Read More
Enterprise
Exquisite craftsmanship. Insanely small tolerances. Beautiful materials. Whoever says art is dead has never worn a luxury watch. The challenge: showing all these details...
Read More
Mobile
Something amazing happened when we asked our quality assurance team to torture test the latest version of our DirectStylus technology on the new SHIELD...
Read More
Supercomputing
For the eighth time running, an NVIDIA GPU accelerator-based system powered the winning team in a major international student cluster competition. This time, the...
Read More
Supercomputing
Among the most interesting announcements at this week's ISC'14 is the emergence of a new class of system – one that marries the many advantages...
Read More
Workstation
Suddenly, the stars don't seem so far out of reach. Warp drives have long been the domain of science fiction. NASA physicist Harold White is...
Read More