Gaming
Our new flagship GeForce GPU is an amazing upgrade for gamers who haven't yet jumped to a Maxwell...
Read More
Gaming
We're announcing a new software development kit, GameWorks VR, to help VR headset and game developers build incredible...
Read More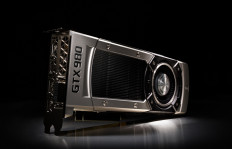 Gaming
NVIDIA has clinched its seventh straight year of "Best Choice Awards" at Computex, Asia's largest technology tradeshow. NVIDIA DRIVE, GeForce GTX 980 and NVIDIA...
Read More
Corporate
From streaming PC games at home to playing Android games on the road, the SHIELD tablet delivers a completely immersive experience. But the device...
Read More
Speeds and Feeds
If your day starts by crawling to work through traffic, you've wished that the four-lane highway could expand into eight. Applications experience traffic jams,...
Read More
Enterprise
Radiation therapies with ion beams can precisely target cancerous tumors, while leaving surrounding healthy tissue unharmed. Such targeted therapy leads to less invasive surgery,...
Read More
Enterprise
It's a staggering challenge. The proliferation of malware — malicious software that often targets the mountain of data on computers and mobile devices — poses a...
Read More
Enterprise
Add the ability to manipulate time to the list of advances made possible by GPUs. Cinnafilm, a small engineering-driven firm in Albuquerque, N.M., sells...
Read More
The race is on to understand how cell mutation causes cancer, which kills hundreds of thousands worldwide each year and is the second leading...
Read More
Corporate
Search and rescue ain't what it used to be. Gone are the days of rescue teams and their dogs heading into dangerous situations not...
Read More