Auto
So, how does deep learning work? A great way to understand it is to look at NVIDIA DRIVE, our new auto-pilot car computer....
Read More
Explainer
Cheap PCs can generate lush virtual worlds. Supercomputers can simulate the formation of galaxies. Even the phone in your hand is more capable than...
Read More
Cloud
Editor's note: This is one of a series of five posts profiling finalists for NVIDIA's 2015 Global Impact Award, which provides $150,000 to researchers...
Read More
Global Citizenship
Bit by bit, Erez Lieberman Aiden is unfolding the genome. It's not easy. Tightly folded inside the nucleus of a cell, the genome is a...
Read More
Gaming
Today's introduction of GeForce GTX 960 brings Maxwell's powerful and efficient architecture to more gamers than ever before. The GTX 960 offers the same...
Read More
Supercomputing
How do the genes within, say, skin cells, or lung cells or muscle cells, turn on the functions they need? How do they turn...
Read More
Auto
There's no room for error in the fast lane. For automakers—with tens of thousands of employees, multinational production facilities and vehicles crafted for an...
Read More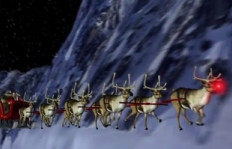 Corporate
If you look into the sky on Christmas Eve, hoping to catch a glimpse of Santa Claus on his reindeer-pulled sleigh, you won't be...
Read More
Supercomputing
Developing exascale computing capabilities is the key to next-generation scientific research, national security and ensuring economic competitiveness. That's why I'm thrilled that NVIDIA has...
Read More
Explainer
The numbers are big and so is the news. The U.S. Department of Energy today unveiled plans to build two GPU-powered supercomputers. Each will...
Read More