Corporate
Google and Baidu dropped some big ideas about deep learning at our GPU Technology Conference last month. But keynote addresses from the two search...
Read More
Mobile
Homeroom. Spring Break. Autonomous robots. They're all top of mind for the kid roboticists who streamed into the FIRST Robotics Competition in St. Louis,...
Read More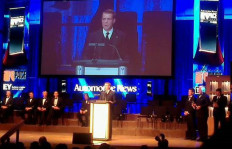 Auto
NVIDIA has won a PACE Award — the automotive industry's version of an Academy Award — for its Tegra Visual Computing Module (VCM), which helps automakers quickly...
Read More
Corporate
What does it take for a high schooler to build a competitive robot? Moxie. Brainstorming. And a kit of common parts, for starters. High...
Read More
Auto
Audi. BMW. Honda. GM. Toyota. Nissan. Tesla. This year's GPU Technology Conference will have more cars than canapes. We've curated more than 25 sessions...
Read More
Auto
Audi is kicking off the Geneva Motor Show with a range of futuristic new vehicles. They include the R8 e-tron supercar, the Q7 SUV,...
Read More
Gaming
Thousands of movies are on Netflix and Amazon. Millions of songs are on Pandora and Spotify. Tens of millions are addicted to streaming content....
Read More
Gaming
Bigger screens, sharper resolutions, cheaper prices. TV sets get better every year. And there's no better showcase for your favorite games. We built SHIELD...
Read More
Gaming
200 gaming titles at launch. One teraflops of computing power. Support for 4K television. Access to a huge, and growing, library of on-demand games. And...
Read More
Auto
So, how does deep learning work? A great way to understand it is to look at NVIDIA DRIVE, our new auto-pilot car computer....
Read More