Auto
Four lidar detectors. Four fisheye cameras. Two narrow field-of-view cameras. GPS. We may be cruising down a sun-dappled Silicon Valley expressway within the posted...
Read More
Mobile
A new oven uses the NVIDIA Tegra K1 processor to make critical cooking decisions. So you don't have...
Read More
Gaming
It's now easier than ever to find the entertainment options you want on SHIELD, the flagship Android TV device – thanks to the major...
Read More
Auto
The digital revolution churning across the auto industry rivals the Industrial Revolution for its speed and strength, Audi President and Chairman Rupert Stadler said...
Read More
Corporate
Smart apps are about to cut the clutter in your living room. Here's how....
Read More
Corporate
Google and Baidu dropped some big ideas about deep learning at our GPU Technology Conference last month. But keynote addresses from the two search...
Read More
Mobile
Homeroom. Spring Break. Autonomous robots. They're all top of mind for the kid roboticists who streamed into the FIRST Robotics Competition in St. Louis,...
Read More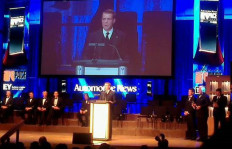 Auto
NVIDIA has won a PACE Award — the automotive industry's version of an Academy Award — for its Tegra Visual Computing Module (VCM), which helps automakers quickly...
Read More
Corporate
What does it take for a high schooler to build a competitive robot? Moxie. Brainstorming. And a kit of common parts, for starters. High...
Read More
Auto
Audi. BMW. Honda. GM. Toyota. Nissan. Tesla. This year's GPU Technology Conference will have more cars than canapes. We've curated more than 25 sessions...
Read More