If you've seen Black Swan, it's likely that the beautiful but agonizing dénouement, when Natalie Portman's Nina transforms into the title winged creature, is indelibly etched into your mind's eye. Visual effects studio LOOK Effects created over 200 shots for this multiple Academy Award-nominated movie, including the unforgettable visual imagery in the final scene when Nina spins off into madness.
© Copyright 2010 Fox Searchlight Pictures.  All rights reserved.
LOOK Effects (LOOK) is a long-time NVIDIA customer, with 30 artists from its New York and Los Angeles studios working on Quadro professional graphics processing unit (GPU)-equipped workstations. On Black Swan, Quadro solutions played a key role in the creation of Portman's transformational scene, enabling director Darren Aronofsky to work closely with lead 3D artist Shawn Lipowski and quickly iterate shots for review. The breathtaking sequence also clinched a British Academy of Film and Television Arts (BAFTA) Special Visual Effects award nomination for LOOK.
"In the Black Swan transformation sequence there were over 11,000 computer generated (CG) feathers, made up of millions of polygons. With the NVIDIA Quadro cards we were able to work more interactively, benefiting from high quality previews of these massively large files," said Lipowski. "On a 30-second shot, when you're animating all day, the extra speed of the Quadro matters a lot, enabling more fine tuning and ultimately, higher quality results."
© Copyright 2010 Fox Searchlight Pictures.  All rights reserved.
The complex transformational scene starts with a shot of Portman looking down at her hands as animated bumps rise up on her skin and erupt into quills that break out of her arms. The scene then moves to a 30-second Steadicam shot where she spins in a long series of pirouettes as the feathers sprout painfully from her shoulders and back, then develop into full, animated wings. The scene, which combines motion capture data, live action plates, animation and effects, also features a computer-generated orchestra.
"We built the orchestra in the 3D workspace of The Foundry's Nuke, so we were able to take advantage of the Quadro graphic cards there too," said Lipowski. LOOK also used the NVIDIA GPU-accelerated GenArts Sapphire plugins for Adobe After Effects to generate effects for the film. Rendering was completed in mental ray, from NVIDIA subsidiary mental images, using the software's architectural materials as shaders.
Video: LOOK Effects shows VFX in Black Swan
The 11,000 feathers LOOK created for the transformation scene were based on high-resolution scans of actual tundra swans, and Lipowski built detailed feather geometry for quills, as well as complicated rigs to form the feathers individually. "The wings are long—they come two to three feet off her arms, plus they flex and bend as she whips around," said Lipowski.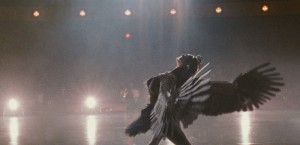 © Copyright 2010 Fox Searchlight Pictures.  All rights reserved.
"That's a huge amount of geometry for a graphics card to process, and NVIDIA Quadro handled it perfectly. The other reason we use NVIDIA cards is because of the driver stability. It's just better. At times, that reliability means more to me than speed, because to ever have a crash is a huge problem," explained Michael Oliver, Director of Technology at LOOK Effects.
Quadro's speed was an advantage in enabling director Aronofsky to be heavily involved in the big transformation scene. Protozoa Pictures, Aronofsky's production company is co-located with the LOOK Effects New York facility. "Darren had a strong vision for what the transformation scene needed to look like. He was coming into the office regularly and working over my shoulder. Every time I had to generate a new version I was doing 2D animated maps in Nuke and After Effects then bringing those into Maya to generate the feathers. It was a lot of back and forth. The speed of Quadro made it practical for us to work iteratively to get it exactly right," Lipowski concluded.
LOOK is currently standardized on NVIDIA Quadro cards for the speed, reliability and interactivity that they provide professional digital artists. The facility continues to find new ways to accelerate production workflow and is investigating GPU accelerated fluid simulations for future productions. The company's current project slate includes the films Limitless, Fast and Furious 5, and A Little Bit of Heaven; and television projects: Lost, Bones, No Ordinary Family and others.