Several weeks ago, Microsoft announced C++ AMP , an extension to C++ for GPU computing.  As a C++ enthusiast and GPU architect at NVIDIA, I couldn't be more excited. Visual C++, one of my favorite programming tools, is being updated to work with the parallel processors I help design!  I feel this really validates all the hard work we have invested in GPUs over the years.
This week, Microsoft and NVIDIA co-hosted an event where we had the chance to talk to Silicon Valley C++ developers about C++ AMP and CUDA being two sides of the same coin: NVIDIA'S CUDA is optimized for high performance while C++ AMP will be optimized for productivity.
We started things off with guest speaker Herb Sutter, the chief native languages architect at Microsoft (pictured above).  Herb's a terrific speaker and he made a compelling case for C++ AMP.  Earlier in the day, Herb had keenly pointed out that the crushing performance-per-watt advantage of C++ over competing programming languages means that solutions based on C++ are the greenest possible!  Hence my headline.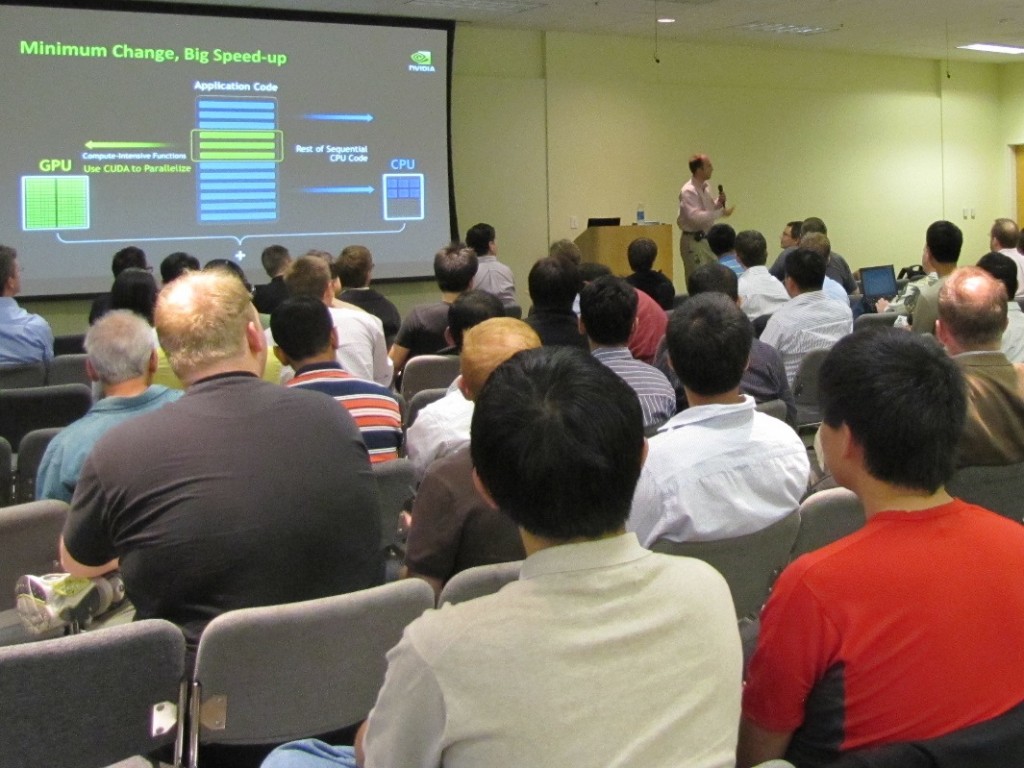 Now as much as I'll admit that C++ AMP will be sexy, with its elegant syntactical curves, the reality is that the future is here now for CUDA developers.  After Herb's talk, a team of NVIDIANs presented the basics of CUDA as well as Thrust , a CUDA library of parallel algorithms that makes programs more concise and human-readable.  Eyebrows were raised with interest. People "got" it. Thrust has this effect on people.
Developers can't get their hands on C++ AMP quite yet, at least not until Microsoft's BUILD conference this fall, but you can download CUDA and Thrust today at www.nvidia.com/getcuda.