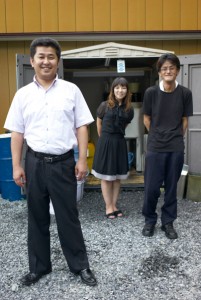 Tomohiro Kashiwagi; his wife,

Akiko; 
and 
his 
sole employee,
Murakami.
Editor's note: More than a year after Japan's Tohoku region was devastated by a tsunami, small local businesses are bouncing back, helped by low-interest loans and startup assistance provided through a $2 million grant from NVIDIA. This is one in a series of profiles of businesses benefiting from the program, dubbed Operation Kizuna, after the Japanese word for "bond of love and friendship."
Tomohiro Kashiwagi hops out of the white van that I've been following, as I ease my rental car into his driveway. "Do you smell that?" he asks.
At first, it's hard to identify. Fried chicken? Tempura? Neither, actually. The scent is coming from the tailpipe of Kashiwagi's van. "This van runs on the biodiesel fuel that we make here," he says, patting the hood.
Around Kesennuma city, Kashiwagi is known as the biodiesel fuel guy. Restaurateurs and barkeeps call on him when they have cooking oil to dispose of. Transport companies and construction firms know he's the one selling eco-friendly fuel at reasonable price for a van, power shovel or a cargo truck. While Kashiwagi continues to run a business that helps manufacturers find workshops that make specialized parts for factory equipment, he now supplies 1,000 to 1,300 gallons of fuel a month to his four major customers.
It's hard to fathom that, this time last year, Kashiwagi — a cheery, solidly built 40-year-old — didn't know the first thing about biodiesel. What he did know was that he and plenty of other residents in this city on Japan's northeastern shore had become too dependent on imported fossil fuel.
The March 2011, earthquake and tsunami had made this clear. Cracked roads and tsunami-ravaged areas disrupted deliveries of everything from food to fuel. "Mobile phone services were down so we had no way of contacting my wife's family, in Iwate prefecture north of here, and we couldn't go by car right away to see whether they were alive," said Kashiwagi.
For months, gasoline in Kesennuma was in short supply; even when it wasn't, prices were sky-high. "That was hard on businesses here," he said. "I kept thinking, there must be a way that we can make our own fuel."
Clean and green, if a little greasy
The answer: a contraption that turns used cooking oil into diesel fuel. Late last year, Kashiwagi spent ¥4mn ($51,700) of his savings on the machine, and by January his biodiesel fuel business was in full swing. Using biodiesel fuel made from recycled oil wins praise from environmentalists who say it helps keep waste oil out of landfills where the oil can contaminate groundwater. They also point out that diesel-engine trucks and heavy machinery, which run on the recycled fuel without expensive add-ons, spew fewer pollutants.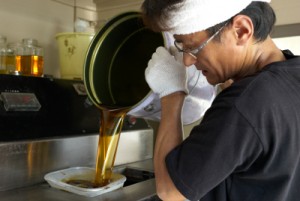 Labor intensive: Murakami filters used cooking
oil gathered from more than 100 sources.
But producing fuel from cooking oil is time-consuming and labor-intensive. Kashiwagi has to gather oil from more than 100 restaurants, bars and shops in the area. It can range in clarity from yellow ochre, like honey, to burnt umber, like Coca-Cola. The clearer it is, the more fuel he can squeeze from it.
He starts by filtering out food particles and other debris. Then the oil goes into the machine — 26 gallons at a time — for six hours. Water and methanol are added in stages, the water to flush out impurities, the methanol to start a chemical reaction that turns roughly 90 per cent of the oil into fuel.
Kashiwagi says he knew there would be demand for his services. He just didn't figure there would be this much. On a recent weekday morning, he gets several calls from businesses — a hospital, a soba noodle shop — that want their oil collected. "They're asking that we swing by today," Kashiwagi said, turning to Junji Murakami.
Kashiwagi recently hired Murakami — a wiry man in his late 30s who used to work at the fish market — to oversee his growing biodiesel fuel business.
A different kind of oil exploration
For most of the day I join Murakami, making the rounds to pick up oil and deliver fuel. Our first stop is a diner, one of many restaurants that is grateful for the service. Most restaurants closed their doors for months after last year's disaster. Those that eventually reopened found themselves in a pickle: they had no way to dispose of their cooking oil because the tsunami had wiped out businesses that previously had provided the service. The diner doesn't have much oil — about 4 gallons. The 7-Eleven we stop at next has almost none.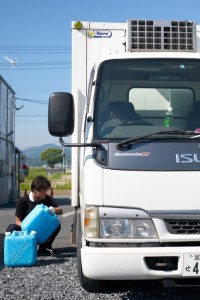 A gallon here, a gallon there,
and soon 
you're producing 1,300
liters of clean biodiesel a month.
Two more restaurants, two hospitals and a mom-and-pop grocery store later, Murakami has more than a dozen 4-gallon cans. With every shop, there's a different arrangement. Some pay for the service; others get paid. Many hear about the service by word-of-mouth. And thanks to stickers and posters and a Facebook page that Kashiwagi's wife, Akiko, is in charge of, more people are finding out.
In the afternoon, while Murakami is away filling a customer's trailer-truck with two plastic jugs full of biodiesel, Kashiwagi keeps an eye on the fuel-converting machine and mans the phones. A couple of construction firms call asking if they can buy fuel but Kashiwagi declines.
For now, he's busy enough. Kashiwagi charges ¥110 per liter — roughly $5.30 a gallon — which sounds pricey but in Japan it's about 10 per cent cheaper than what you pay for diesel fuel at the pump. "Eventually, we want to produce up to 1,300 liters (3,500 gallons) a month, but we will need a bigger machine and more space," says Kashiwagi.
Fortunately, he has money on hand: Kashiwagi says he's waiting for the right moment to put the ¥1.5mn ($19,400) grant from NVIDIA (distributed through PlaNet Finance Japan) toward the next stage of his business's growth. "My mission is to make this business a success," he says.