[Editor's note: Nearly three dozen companies participated in the Emerging Companies Summit, held during NVIDIA's GPU Technology Conference earlier this year. Below is one in a series of company profiles showcasing how startups are innovating with GPU technology.]
To the delight of couch potatoes everywhere, eyeSight Mobile Technologies is working to improve on the TV remote control with something that's impossible to misplace and never runs out of batteries: your hand.
That's just one example of the many devices and applications that the five-year-old Israeli company is striving to better with its innovative gesture-recognition software.
Touch computing has quickly gone mainstream and Gideon Shmuel, eyeSight's chief executive officer, is confident touch-free gesture control won't be far behind.
Touch-enabled devices, like notebooks or monitors, can be wobbly. Screens get smudged. Remotes get lost or die. Ideally, a person wouldn't have to touch a device at all.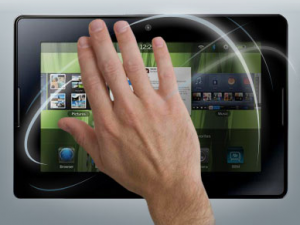 Using a device's existing 2D camera, eyeSight's software enables a person, with the wave of a hand, to answer a phone via speakerphone, silence an incoming call, turn the pages of an e-book reader or control a presentation from a tablet set on a podium.
To ensure a natural-feeling user experience, eyeSight has developed software that operates devices with small, intuitive, not mannered, gestures. The system is able to detect hand or fingertip movements in the midst of lots of image noise and under various lighting conditions.
Specific gestures – for example, a finger point, a wave or the flick of the wrist – can be mapped to specific keyboard shortcuts or mouse actions.
eyeSight has deeply integrated its software with the Android, iOS, Linux and Windows operating systems, including a recently announced offering for Windows 8. OEMs can include eyeSight in their products without having to interact with the operating system code at all.
The startup also works closely with component makers – from chipsets to touchscreens to camera modules – across the mobile, PC, tablet and set-top box markets, among others.
With the NVIDIA Tegra 3 mobile processor, eyeSight's software can quickly process the pixels involved in tracking objects and enable a wider variety of gestures. Whether you use a finger to select menu items on a TV screen, multiple fingers on a tablet or a hand to skip to the next song on a notebook, GPUs can help ensure top performance and low power consumption.
Find out more about eyeSight's gesture-recognition technology and watch a demo on its website www.eyesight-tech.com/technology.