A great gaming device deserves amazing games. This is just one of the reasons we pre-loaded every SHIELD with Sonic The Hedgehog 4: Episode II – at a silky smooth 60 FPS – and Expendable: Rearmed.
But it doesn't stop there. Not even close.
A host of talented development studios, from around the world, have delivered big time with their games for Tegra devices. With 35 SHIELD games optimized for Tegra and over 65 additional Android games with built-in controller support, gamers will have non-stop entertainment on the go.
So let's take a look at what you have to look forward to.
Five Brand Spankin' New Games Went Live Today
Blood Sword: Sword of Ruin
Developer:  OneQ Soft
Unveiled at CES, this action-packed role-playing game has come a long way. Blood Sword: Sword of Ruin is set in an ancient, magical world. This gorgeous looking game has been optimized for Tegra 4 devices, including SHIELD, with high resolution textures, dynamic shadows, normal maps and realistic smoke and fire effects.
Choplifter HD
Developer: inXile
Choplifter HD players take on the role of an up-and-coming rescue pilot asked to join an elite, international helicopter rescue team. Pilots are trained to command a variety of helicopters deployed on more than 30 different missions.
Combining reality with elements of fantasy, missions will range from captured military prisoner extraction to saving survivors of viral outbreaks. Pilots must bank, hover, touch-down and sometimes even shake zombies from their chopper during lift-off in order to make their rescue and complete their mission. Choplifter HD dares players to risk their lives to save others.
Chuck's Challenge 3D
Developer: Niffler
From the design genius behind the classic Chip's Challenge, comes Chuck's Challenge 3D, a fiendishly addictive puzzler that's packed with features that will tease the brain and challenge the fingers. You take Woop, a puzzle-lovin' alien capable of altering time and space, through countless levels and see where your times rank on the online leaderboard.
The game also comes with a level editor that lets you create, upload and share your custom levels for everyone to play and rate, all from within the game.
The team at Niffler was particularly impressed with SHIELD, noting that "NVIDIA's Tegra 4 processor allowed us to add special effects to Chuck's Challenge 3D which normally would be reserved for PC & Mac, such as real-time shadows and refractive water. NVIDIA, as we see with SHIELD, continues to blur the line between desktop and mobile gaming."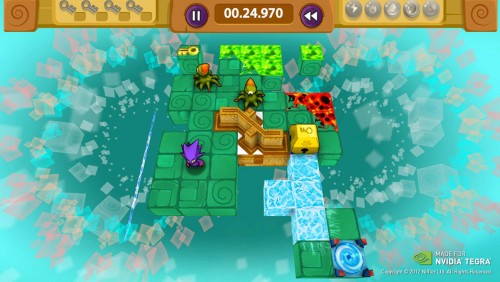 Space Ark
Developer: Strawdog Studios
Join the Arkonauts as they bounce their way across the universe and discover grey, broken worlds and collect precious crystals that allow them to terraform new landscapes. You'll progress through 30 missions across five diverse worlds by unlocking powerful weapons, crystal upgrades and planetary shields.
Strawdog's Technical Honcho, Simon Morris, commented on how great the game looks with the power of Tegra processors: "With hundreds of 3D objects on screen, rich animated worlds and characters, all rendered with real-time lighting and gazillions of particles, NVIDIA Tegra really gives some serious bang for buck."
Tainted Keep
Developer: Ravn Studios
Find out what dark and sinister evil awaits in this console-quality sword and spell dungeon crawler. The once idyllic village of Greenhaven is now a near lifeless husk, the souls of its inhabitants having been drained by the powerful wizard Morg, who has used them to create the abominations that now occupy the mighty keep that was once the source of protection for the village. As Xobia, enter the keep to find the source of Morg's power and put an end to the misery that has been unleashed on the hapless village.
Ravn Studio's CEO, Stine Waern, had high praise for what SHIELD is capable of, "SHIELD is it by far the fastest mobile device we've worked on and it lets us put console-quality graphics on a handheld device."
Play The Best – Tegra-Optimized For SHIELD
In addition to the titles available for the first time, a number of existing TegraZone games have SHIELD support. Many feature new Tegra enhancements.
In addition to all the great Tegra-optimized titles, there are a ton of additional games currently available on Google Play that feature controller support and play well on SHIELD.
The full list can be found on the SHIELD website at http://shield.nvidia.com/play-android-games/.
Game. On.