There were trolls, night elves, assassins and soldiers. Catwomen made the scene. Handsome Jack from Borderlands II was there, too.
It's early morning outside the glass-and-steel Cologne Koelnmesse – or exhibition center – and thousands of videogame enthusiasts are lined up to get inside. Many are dressed as their favorite videogame characters.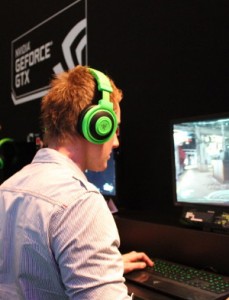 These are our kind of people.
Gamescom, the world's biggest gaming expo, is expected to set new attendance records  after drawing 275,000 enthusiasts last year. Hundreds of new games will be launched or demoed here for the first time.
NVIDIA has been a part of the show for years, of course. Our powerful GeForce GPUs have long been featured by our partners at the show. This year, for the first time, however, we have a booth of our own – complete with a lineup of demos, giveaways, and talks that had hundreds of attendees yelling and screaming "NVIDIA."
Here's what our visitors found:
Big New Games – Crowds powered through upcoming blockbusters Assassin's Creed IV Black Flag and Tom Clancy's Splinter Cell Blacklist for the first time. Both feature NVIDIA technologies, such as DirectX 11 tessellation and TXAA. And Blacklist is the first game to include a new ambient occlusion technology, HBAO+ (Horizon Based Ambient Occlusion). Powering these: small form factor PCs that pack a big wallop with their powerful GeForce GTX 780 GPUs.
Our Powerful New Portable – You can't get SHIELD, our new Android-powered gaming portable, in Europe right now. But that didn't deter anyone. The SHIELD demo area was crowded, and everyone seemed to have the same question: "When can I buy this in Europe?"
Special Guests and Demos — On stage in our booth: developers, publishers, and overclockers deliver talks and game previews from upcoming blockbusters such as Watch Dogs, Assassin's Creed IV and The Witcher 3. Special guests from Activision showcased Call of Duty: Ghosts, reps from Warner offer a guided tour of the expanded Gotham City featured in Batman: Arkham Origins and folks from 2K Games delivered a security cleared viewing of The Bureau: XCOM Declassified.
Preview image photo credit: Sergey Galyonkin / Flickr