Editor's note:  Eric Nagrampa has been spinning records since vinyl was the only option. Known professionally as DJ E-Rock, Nagrampa worked his way up from his garage to radio, where he hosts Club 997 on the San Francisco Bay Area's Movin 99.7. He's now taking on the hottest clubs from around the country with residencies in San Francisco (Infusion Lounge), Las Vegas (Haze Nightclub), San Diego (Fluxx) and Hollywood (AV Nightclub) with stops in Honolulu, Atlantic City, Miami, and Chicago, among others.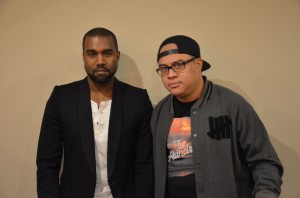 I had just wrapped a night at Haze in Las Vegas last January when Project SHIELD was introduced at CES (Consumer Electronics Show) – and it immediately caught my eye.
I've always been a gamer – whether it was dropping quarters at an arcade or blowing dust out of a Nintendo cartridge. And now that I spend more time on the road than I do at home, I need something I can travel with.
That's where SHIELD comes in.
Hour and a half flights from the Bay to Vegas don't sound all that bad until you start doing them weekly. Between the flights themselves and needing to kill time in airports waiting around… well, let's just say I've spent a ton of time playing games like "Sonic 4 Episode II," "Grand Theft Auto III" and "Real Boxing."
I still have a bunch of the old consoles and games, so I've got a lot of them loaded up in emulators. Needless to say I wouldn't be playing any of the sports games without the full SHIELD controller. It just ain't the same.
Secret Sonic Weapon
But I use SHIELD for more than just games. Music is my life. I'm constantly listening to something. At any given time I'll have a few mixes downloaded that up-and-coming DJ's have sent me to see what they've got. I always have plenty of new tracks artists are sending me to go through as well. SHIELD's speakers blew me away and they keep these artists sounding their best.
It Keeps Going, Like I Do
But what might be the best part about it is I never have to charge it. When I need to unwind after gigs I can throw Netflix on in my hotel room and not have to worry about getting up from bed to find a charger.
Let us know how you're using SHIELD in the comments below.