It's that time again. Time for a taste of the best that gaming has to offer with our Ultimate Holiday Bundle.
Grab a qualifying GeForce GTX graphics card and a SHIELD, and you'll instantly get $100 off and up to three of this holiday's biggest PC games. For more details, take a look here.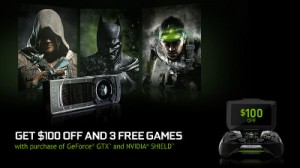 Each game in our bundle takes full advantage of the extreme performance offered by the latest NVIDIA-powered graphics cards, letting you enjoy them at the highest resolutions and settings.
Play on your PC, or stream these games wirelessly to SHIELD with our revolutionary GameStream technology. You can even put these games on your high-definition TV with SHIELD Console Mode.
Already own one of our latest graphics cards? Then you've already got what you need to get the most out of SHIELD. Pick one up for $50 off the retail price from the NVIDIA online store.
Don't delay. Our Ultimate Holiday Bundle is good for a limited time only.