Startups are the petri dishes of innovation. Look no further than Facebook's $19 billion acquisition of WhatsApp to see the disproportionate impact they can have.
Today, thousands of startups are using GPUs to grow their business, hoping to disrupt industries and be the next WhatsApp or Twitter.
And we're helping by giving them a public stage and an opportunity to win some nice prizes.
More than $500,000 worth of prizes will be at stake when 35 startups from 14 countries compete at our Emerging Companies Summit on March 26 in San Jose, Calif. The event, now in its sixth year, takes place during NVIDIA's GPU Technology Conference.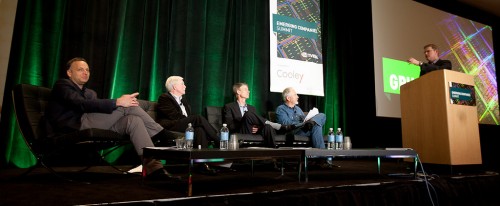 The summit includes two presentation tracks, demos in an exhibition area, and an awards ceremony.
The "Early Stage Challenge," new this year, will feature a dozen startups competing for a single $100,000 cash prize – to be awarded on the spot. Bay Area NBC technology reporter Scott Budman will moderate a panel of tech experts that includes Pat Moorhead, a leading industry analyst; Jens Horstmann, executive producer and managing partner of Crestlight Ventures; Bill Reichert, managing director of Garage Ventures; and Jeff Herbst, vice president of business development at NVIDIA. The panelists and audience will vote to determine the winner.
All participating startups are eligible for a "One To Watch" award, which will go to the five most promising companies. Highlighting the competition is a series of rapid-fire presentations by 11 CEOs, who will take questions from a panel of experts including analysts Jon Peddie and Rob Enderle; as well as Savitha Srinivasan, a partner in IBM's Venture Capital Group; Anders Ranum, venture partner of SAP Ventures; and NVIDIA's Herbst.
This year's participants are focused on fast-growing fields, including mobile apps, computer vision, machine learning, big data and analytics, cloud computing and gaming.
Past participants in the event include Oculus Rift, Natural Motion and Elemental Technologies. Zynga recently acquired Natural Motion for $527 million, and Elemental Technologies today streams sports events including the Olympics and Major League Baseball.
To register or for more details, go here.
Note: this post has been updated to reflect a higher value for all the prizes that will awarded as part of our event.