Nemo. Monsters Inc. The Incredibles.
When we watch Pixar's entrancing movies, characters and plots seem to fly across the screen at the speed of a small child's imagination. But until just a few years ago, roughing out the scenes in these stories was a painstaking process, taking hours, even days. But not any longer.
Now, digital animators and lighting artists can push and pull characters in real time, tweaking their expressions and the environment they move through in thousands of subtle ways.
"It's important for us to create an environment that will be playful, where the animator can reach in and make changes in real time, and that's enabled by the NVIDIA GPUs that we use," Pixar engineering lead Dirk Van Gelder told a crowd of more than 2,500 at our annual GPU Technology Conference in San Jose, California.
Why is a company that makes movies appearing at a GPU conference? Because that movie company used to be in the GPU business, sort of, Van Gelder explained. Pixar's first products were computers that helped power digital animation. As graphics technology advanced, Pixar abandoned that business to take up digital storytelling. Along the way, it adopted SGI's systems, and, then moved to PCs equipped with NVIDIA's graphics cards.
They haven't looked back. "Through all of our history we've relied on high-performance graphics," Van Gelder said. "And for the last ten films that we've made the answer for that has been NVIDIA."
Van Gelder and Pixar technical director Danny Nahmias told the tale of how Pixar uses GPUs to create scenes faster — and how that extra times gives them the time to be more creative.
That's because GPUs give Pixar's lighting and animation teams almost instant visual feedback on their ideas. So they can see when a shot isn't working, or if a daring idea works.
Van Gelder showed how Presto – Pixar's proprietary GPU-accelerated animation system – lets artists get real-time feedback during the character animation process. To demonstrate, he showed off a scene from Monsters University, where James P. Sullivan, one of the main characters, leans over another student's chair in a lecture hall to grab a pencil he used to pick his teeth.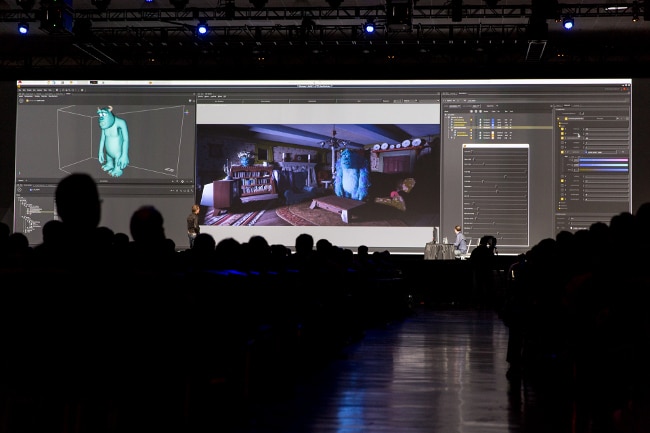 In Presto, animators are able to move a camera around the classroom to view Sullivan from any angle. And NVIDIA's GPUs made it possible to create detailed hair for a wildly hairy character in near real-time, so they could fine tweak the way he slouched his hair mass over the classroom's chair.
"Every part of him is live and posable in the system," Van Gelder said. "If we didn't have fast graphics, we wouldn't be able to make this happen."
After Van Gelder spoke, Pixar's Nahmias showed how Pixar's interactive lighting preview tool, built on NVIDIA's OptiX framework. It lets artists replace and adjust virtual lights to create a mood and tone for each scene, and guide the audience's attention.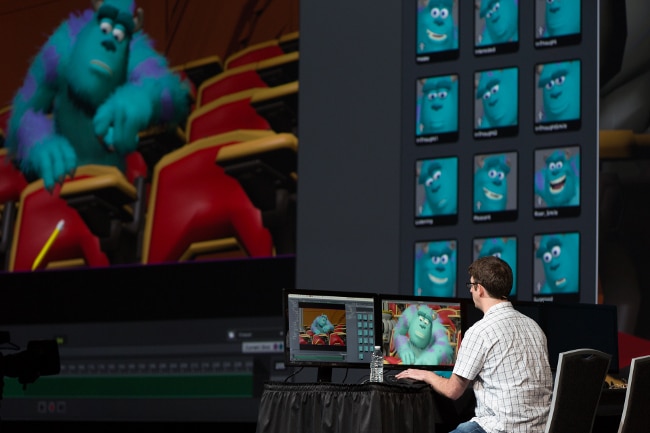 Before, Pixar's lighting artists relied on thousands of small cheats, that meant a scene could only be viewed from a limited number of angles. But by shifting to ray-tracing, which models the way light actually bounces around an environment, Pixar's lighting team could free themselves to explore scenes from a wider variety of angles. And they could instantly change the way a scene was light — shifting from light with golden tones to starker colors with a few keystrokes to change the mood of a scene.
"Lighting sets the mood and tone," Nahmias said. "It provides the context for all of our shots in support of the story."
Real-time ray-tracing is the talk of the 2018 Game Developer Conference. So what is it? Where have you seen it before? And how does it differ from rasterization? Check out "What's the Difference Between Ray Tracing and Rasterization?"