Insane deadlines. Fiendishly advanced technology. High pressure.
We're not talking about tomorrow's hyper-competitive workplace. We're talking about the FIRST Robotics Championship. Held in St. Louis earlier this month, the event pitted teams of students from around the world against each other in brutal tests of their capabilities.
This is a sporting event like no other. Participants wore quirky, themed uniforms as they scrambled around the floor of the Edward Jones Dome testing, tweaking and fixing their robotic creations. Fans in the stands waved signs and cheered as the bots vied for championship glory. Some teams even brought mascots.
If you're looking for young people who are building stuff that will change the world, you'll find more than a few of them here. That's why we couldn't miss this. We brought our latest technology – the Jetson TK1 DevKit – to FIRST. The result: kids packed into our booth at the event to learn how the $192 kit – that's a dollar for every GPU core in its Tegra K1 processor – can unlock computer vision capabilities and give their bots a battlefield edge.
A FIRST for Victory
Showing kids how to use technology to compete is at the core of the competition. Segway inventor Dean Kamen founded the non-profit behind the event, FIRST (For Inspiration and Recognition of Science and Technology). FIRST uses competition to engage middle and high school students in science, technology, engineering and mathematics.
The idea is to challenge students to think their way through problems, rather than telling them how to tackle them. It's an approach that brings parents, teachers, volunteers and corporate sponsors together to support students.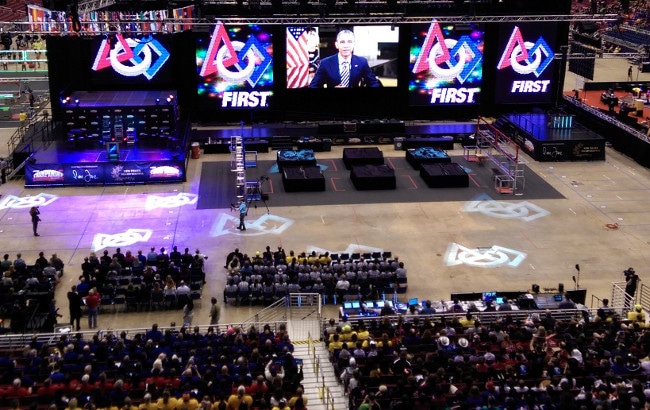 It's an effort that's getting noticed. Newspapers and radio stations sent reporters to cover the event. Tech companies – like NVIDIA – showed competitors their latest technologies. President Obama even delivered the opening keynote via teleconference.
The Road to St. Louis
Every team arrived with a robot that had been tested in months of grueling regional competitions. While they were built from the same set of starting blocks, each team's robot worked in different ways.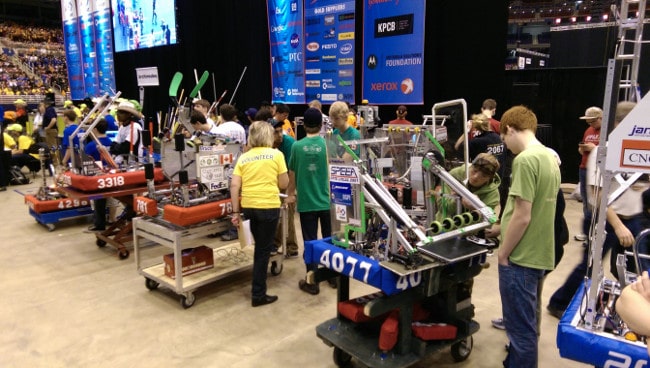 Teams pitted these robot creations against other teams on 25 foot by 50 foot fields. Each showdown challenged a robot's ability to navigate to an object, pick it up and throw it through a designated target.
The result: an environment more like a sports team – or an engineering shop – than a classroom. When competing, students rely on their teammates. Between rounds, students can turn to mentors, who dole out advice in the form of questions that challenge the kids to work around the problems they're facing. And somehow, they always do.
In part, that's thanks to a spirit of collaboration at FIRST. When teams run into a problem, competing teams will help them solve it. Every team wants every other team to perform at its best. That's how you bring out the best in everyone, and that's how you have a real competition.
It's enough to make you believe, again, that with the right mix of technology and teamwork we can get through the great unsolved problems of our time.
We've already booked our tickets to St. Louis for the next year's championships. See you there.