Google gave a sneak peek today of the newest version of Android coming later this year -"L." Among other things, L features exciting new gaming capabilities for developers – thanks to the Android Extension Pack (AEP).
Google demonstrated what Epic's Unreal Engine 4 can do with AEP running on our Tegra K1 processor. And it's impressive.
"Quite literally this is PC gaming graphics in your pocket," said Dave Burke, Google's director of engineering for Android, speaking at Google I/O.
Google made it clear it's going to provide all the tools developers need to build great games. And since it's gaming, Tegra K1 has a central role.
With AEP, Google puts game developers on the fast track to bring modern game engines to mobile devices. AEP adds powerful new extensions to OpenGL ES, the mobile graphics standard, bringing PC and console-class features like tessellation and compute shaders to Android.
"We wanted to close the gap between desktop DX11 class graphics and mobile," Google's Burke said. "And we do that with something we call Android Extension Pack."
Epic's Rivalry demo – powered by Tegra K1 — shows what's possible when PC-class gaming technologies and performance are brought to mobile devices. Tegra K1 includes support for DX12, OpenGL 4.4, OpenGL ES 3.1, and now Google's AEP.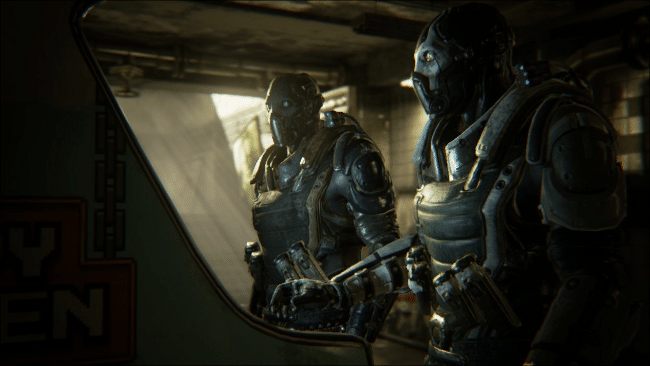 Tegra K1 is the world's most advanced mobile processor. It runs the most advanced game engine, Unreal Engine 4, relying on AEP for some of its effects. Tegra K1's support for a broad array of graphics technologies will help game developers bring immersive gameplay and stunning visuals to mobile devices.
"Through our close collaboration with NVIDIA, Epic's Unreal Engine 4 'Rivalry' project demonstrated at Google I/O shows what's possible when PC-class gaming technologies and performance are brought to mobile devices," said Tim Sweeney, founder of Epic. "In less than three weeks we were able to port content built for high-end PC and the DirectX 11 graphics API to Android and Google's AEP (Android Expansion Pack) extensions for ES 3.1. Developers can deliver incredible graphical complexity on a mobile chipset thanks to Tegra K1 and AEP."
We've seen this story before. Gaming is in NVIDIA's DNA. We know how to build great gaming platforms. We helped build the PC gaming ecosystem. We're doing it again for Android.
Over the past few years, we've partnered with game developers to bring optimized and enhanced games to Android through TegraZone. We launched our SHIELD portable gaming device. We helped bring two of the most acclaimed games in PC history – Valve's Half-Life 2 and Portal – to Android. Now we're the first to support Android's new gaming capabilities.
Great games need a great audience to succeed. With Android, that audience is there: this year alone, more than 1 billion people will buy an Android device. Technologies like AEP – and Tegra K1 – mean the next billion Android devices will have an even stronger foundation for gaming. The next step: great new games. Let's get started.