You couldn't get very far at Google I/O's dazzling kickoff today without bumping into our new Tegra K1 mobile processor.
The keynote showed off Google's new Android L operating system's gaming capabilities on a Tegra K1 reference device. Spanking-new Android TV is available to developers on a Tegra-powered devkit. The Open Auto Alliance's just-announced Android Auto features NVIDIA. And Tegra K1 is at the heart of the Project Tango tablet devkit – which is on display on the show floor – opens up the doors to computer vision and computational photography.
A highlight of the morning was a sneak peek at the next version of Android -"L" operating system. It features an elegant new interface, and will offer 64-bit CPU support and advanced gaming capabilities, among other things.
"We've adapted and optimized the entire platform to take advantage of the new 64-bit architectures," said Dave Burke, Google's director of engineering for Android, an early speaker at the event.
The First 64-Bit Android OS
Sundar Pichai, Google SVP, told the audience that Android "L" will support 64-bit CPU architectures, bringing new performance and computing capabilities to the Android OS. Even better for Android fans, NVIDIA is already developing L on the 64-bit version of our Tegra K1 mobile processor.
We had disclosed at the CES show back in January that the 64-bit version of Tegra K1 features a custom-designed, dual-core 64-bit CPU and 192 programmable GPGPU cores that will deliver unmatched single-thread and multi-thread performance. It's based on the highly efficient ARMv8 architecture.
Android Targets Gaming
A key focus for Android L is gaming – and it's core to what Tegra K1 processors were designed for. Google unveiled a new Android Extension Pack (AEP) as part of the L release, extending GL ES with state-of-the art graphics capabilities to support PC and console-caliber games on Android.
To show off L and AEP on mobile gaming, Epic Games unveiled their latest UE4 demo, powered by Tegra K1.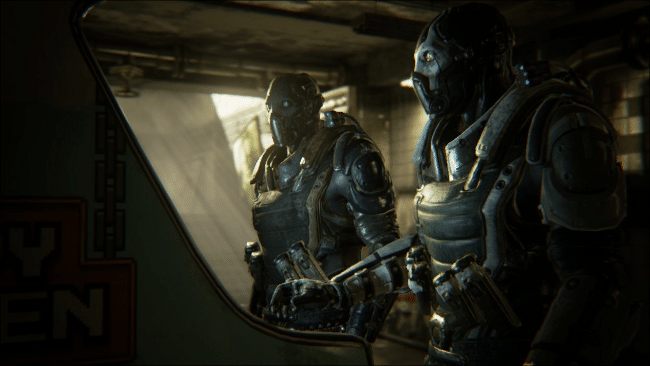 Rock-solid proof that NVIDIA graphics can deliver to Android much more than simple, casual games, appeared to soften the hearts of even the most hardened PC developers.
"We wanted to close the gap between desktop DX11 class graphics and mobile," said Google's Burke. "Quite literally this is PC gaming graphics in your pocket."
"Through our close collaboration with NVIDIA, Epic's Unreal Engine 4 'Rivalry' project demonstrated at Google I/O shows what's possible when PC-class gaming technologies and performance are brought to mobile devices," said Tim Sweeney, founder of Epic. "In less than three weeks we were able to port content built for high-end PC and the DirectX 11 graphics API to Android and Google's AEP (Android Expansion Pack) extensions for ES 3.1. Developers can deliver incredible graphical complexity on a mobile chipset thanks to Tegra K1 and AEP."
Android Into the Living Room
For hundreds of millions of us, Android has become our primary platform to enjoy movies and music, and to share content we make. Wouldn't it be great if we could enjoy the wealth of rich Android content on our big screen TV? If only Android had a user interface that could revolutionize how we enjoy TV.
Our wait is over. Android TV features a clean, elegant version of the familiar Android interface optimized for watching in your living room. And it works seamlessly with other Android devices, enabling multiplayer gaming, for example, with users on Android tablets.
Google's Android TV development platform, powered by Tegra, will help developers extend Android apps into the living room. Google is handing out Tegra devkits for application developers. OEMs interested in building set top boxes or TVs based on Android TV can do so with our Tegra K1 Android TV reference design.
Google's Burke added that "the earlier UE4 game demo was running on Tegra K1 reference design capable of console-style gaming."
The In-Car Android Experience
Back at the start of the year, NVIDIA joined Google, along with GM, Honda, Audi and Hyundai, to form the Open Automotive Alliance (OAA) to improve the Android smartphone experience inside cars.
Today, Google showed off the results of our collaboration, introducing Android Auto. It allows Android-based smartphone users to interact with their favorite apps, such as music, maps and messaging – in a much easier, safer way while driving.
Project Tango
Also at I/O, you'll find on the show floor the Tegra K1-powered Project Tango tablet devkit, which allows developers to take advantage of Tegra K1's 3D and Computer Vision horsepower. Its capabilities go well beyond today's tablets, and provide a glimpse into the future of mobile computing.
If you happen to be at I/O this week, you can swing by the Develop Sandbox to learn how to optimize performance for Android apps and games with Tegra K1's 192 programmable cores.
Our developer team will be showing off just released dev tools that advantage of Tegra K1's Kepler GPU architecture.