We all own tablets. But we all wish we could do more with them.
That's why we built the SHIELD tablet, packing it with more features and capabilities than you can count.
At its heart is our Tegra K1 mobile processor, the world's most advanced mobile processor. Pair it with a brilliant 8-inch, full HD display and you'll get some of the best graphics on the go. Movies definitely pop with 1080p Netflix streaming.
And every tablet deserves a stylus. SHIELD tablet comes with one holstered in the back, so it's always ready. It uses our DirectStylus 2 technology, opening up new possibilities for everyone from note takers to serious artists. We've even built an app, NVIDIA Dabbler, to help you create hyper-realistic images.
No box has been left unchecked. SHIELD tablet is 100% Android. It has expandable storage with a microSD slot supporting cards with up to 128GB of capacity. It gets over-the-air updates direct from NVIDIA. And it runs your favorite mobile apps from Google Play. For road warriors, the SHIELD tablet comes with an LTE option.
Oh, and it just so happens to take mobile gaming to another level.
Tegra K1's 192 dedicated graphics cores have the same Kepler graphics cores we've built into our GeForce GTX graphics cards and our Tesla supercomputer accelerators.
As a result, this is the first tablet with the muscle to handle the technologies that make PC gaming great. It lets us bring PC gaming technologies – like tessellation – to mobile devices for the first time. And it lets developers bring powerful, next-generation gaming engines, like Epic's Unreal Game Engine 4, to tablets for the first time.
These firsts are just the beginning. With the SHIELD tablet, we've surrounded Tegra K1 with the features gamers demand. We put our NVIDIA PureAudio technology and dual-bass reflex ports into the tablet to deliver great sound. So, you can hear the footsteps of your opponents as they try to creep up behind you.
And we've built a wireless controller that pairs with SHIELD right out of the box. This is the first precision controller designed for both Android and PC gaming. It uses a direct Wi-Fi connection for low latency and superior bandwidth compared to Bluetooth technology. Use the controller's integrated microphone to search without typing. Or ask questions and get answers, open apps, and play songs and movies.
Sight. Sound. Control. Those are the fundamentals. But gamers demand more. They also need a tablet that connects them with the gaming devices they already own, and helps them connect with new gaming experiences wherever they go.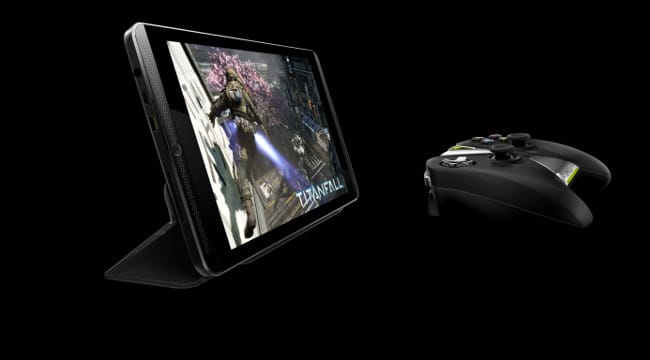 So we've built our GameStream technology into the tablet – which lets gamers stream games from the cloud, or from their PC. We preloaded our SHIELD Hub app to give gamers one-touch access to more than 400 SHIELD-optimized game titles.
And because we know gamers are intensely social, we built a device that can connect gamers with the big-screen displays – and the people – who surround them. This is the first mobile device to integrate Twitch, the world's leading video community for gamers. Mobile Android users can now stream live gameplay to friends and fans worldwide. And what a community it is, with more than 1 million broadcasters and 45 million unique viewers every month.
The SHIELD tablet is also built for a high-definition world. It lets gamers put the action onto high-definition displays. And it lets them connect four controllers to the device so they can all frag it out on the big screen at once.
We've put all this into a device we know gamers will be proud to own. It comes with an optional, sturdy cover that doubles as a stand. It pulls off an unmistakable look that signals this tablet is like no other. And it starts at just $299.
As SHIELD tablet joins the SHIELD family, our continued support of SHIELD portable won't waver. Gamers can expect an over-the-air update to hit on July 29, bringing SHIELD wireless controller compatibility, along with the new SHIELD Hub and Netflix HD. Look for more details in the coming days.
All these new possibilities stem from our focus on gamers. They're the most demanding, creative and tech-savvy customers on earth. They're the heart and soul of our company. With the SHIELD tablet, we think they'll find a tablet worthy of their passion.