Pioneer. Professor. Nobel Prize winner. Oh, and don't forget, Michael Levitt interjects after all those introductions, he's also a programmer.
"And I'm pretty good for my age," the 67-year-old professor of structural biology at Stanford's School of Medicine joked before addressing a crowd of more than 300 engineers, and hundreds more online, who had gathered to hear him speak at NTECH, our annual internal engineering conference.
Less than a year after winning the 2013 Nobel Prize in Chemistry, Levitt spoke Wednesday about how he's spent a career using computers to model the way proteins, DNA and RNA interact inside the human body, before sitting down with NVIDIA CEO Jen-Hsun Huang for a free-flowing conversation.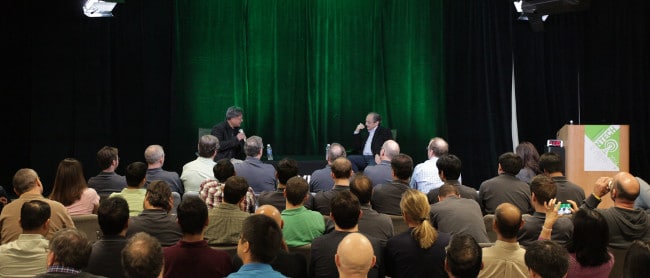 The Nobel Prize committee cited the professor's work – together with Martin Karplus and Arieh Warshel – "for the development of multiscale models for complex chemical systems."
That work intersects with NVIDIA's focus on visual computing in ways that had a room full of engineers nodding along.
Born in South Africa, Levitt was always fascinated by models. His 99-year-old mother has told the press that as a kid, her mischievous son loved building with Legos.
After earning degrees in math and physics, it was an obsession Levitt took to another level during early post-graduate work at Israel's Weizmann Institute of Science. It was there he began building models showing the molecular structure of DNA and RNA.
First he used pieces of metal wire. Later he turned to data he punched into paper cards to create models on the institute's home-built computer.
He loved it. "I actually think I got into computational structural biology for computers, and not for the science," he said.
Over the decades, he began relying on technologies whose development was driven by demand from consumers, like GPUs.
Levitt calls GPUs "time machines." Their parallel processing capabilities help him speed through the once onerous task of building models.
They also power the videogames – like Grand Theft Auto – he enjoys playing with his grandson. "I almost fell out of my chair, that a Nobel Prize Laureate actually knows the word 'GTA,'" Jen-Hsun said.
Comparing his laptop to the hulking machine he first used in 1967, Levitt says he found that computers are 10,000 times cheaper, 10,000 times faster, have 10,000 times more memory, and 10,000 times smaller.
"If cars were like computers, a new Volvo would cost $3 dollars, travel at a speed of a million miles an hour, carry 50,000 adults and you could park it in a shoebox," Levitt said.
He's confident demand from consumers will drive the development of much more powerful machines.
"I love it when other people pay our development costs," Levitt said. "The power to develop is going to come from consumers, and that's going to continue to change the equation."
Jen-Hsun found another parallel. Just as Levitt uses computers to build more sophisticated models of the body's molecular machinery, NVIDIA engineers rely on computers not just to design new chips, but to simulate how they work.
At the end of their talk, Jen-Hsun presented Levitt with a new SHIELD tablet, powered by NVIDIA's Tegra TK1 mobile processor.
"I'd like to share with you the work of all of these engineers," Jen Hsun said.
"It's got a 192-processor GPU inside, it's designed for gamers, and it's the highest performance tablet in the world."
Perfect for research – or, if you prefer – a little Grand Theft Auto with his grandkids.