Readers fell in love with the twists in Gillian Flynn's best-selling novel Gone Girl. David Fincher's film version, opening this weekend, could be just as popular.
To bring to life this complex tale of a marriage gone terribly wrong, Fincher built an innovative production pipeline powered by NVIDIA's next-gen Quadro GPUs.
Gone Girl is the first movie shot entirely in 6K – giving it the most advanced technical workflow of any feature to date.
It's also the first fully edited in Adobe Premiere Pro CC, which extended the filmmakers' flexibility throughout the post-production process.
The filmmakers used NVIDIA's Quadro K5200 GPUs for all stages of production. This enabled fast conversion between formats – from 6K acquisition to 2.5K for the creative edit – for a streamlined review process for Gone Girl's shoot, editorial and visual effects (VFX) teams on custom-designed HP Z820 workstations.
Quadro enabled 25x faster transcoding than the CPU of 6K to digital picture exchange (DPX), a common film industry format. This was a huge time-saving benefit that accelerated the project workflow for delivery to VFX, allowing for more iterations.
It also delivered near-zero latency during playback and real-time repositioning and stabilization. This gave the filmmakers room for more experimentation when composing final shots.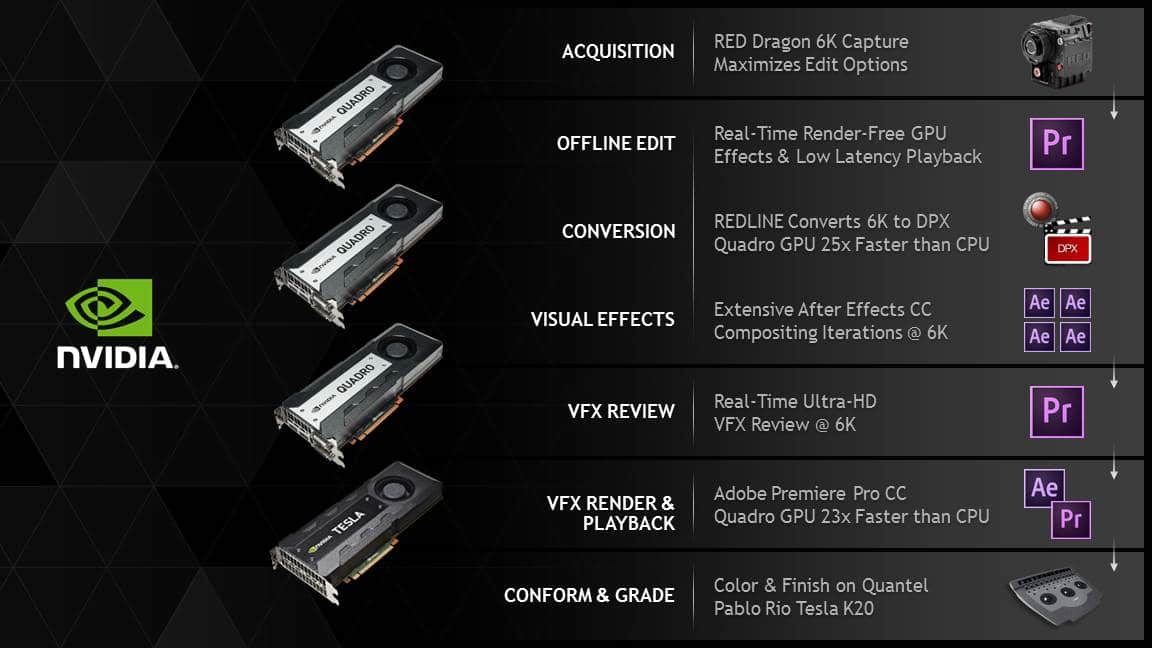 The film, captured on a RED Dragon camera by DP Jeff Cronenweth, also benefitted from Quadro's GPU debayering support in Premiere Pro CC. This eliminated the need for extra RED ROCKET hardware.
It also helped the post-production team distribute footage across many VFX workstations rather than one central system. 
To learn more, read our case study.