Some companies have fans. We have fanatics.
Fanatics like Li Xiaosheng, who built a giant GeForce GTX 690 out of 11,000 Lego pieces.
This past weekend, there was no better place in the world for PC gaming fanatics than the NVIDIA Gaming Festival, in Shanghai, which drew 7,000 devotees of the brand.
Our CEO, Jen-Hsun Huang kicked things off by thanking our biggest fans in China and invited Li on stage to present him with some of our latest products. Another fan showed off an NVIDIA logo shaved into the back of her head.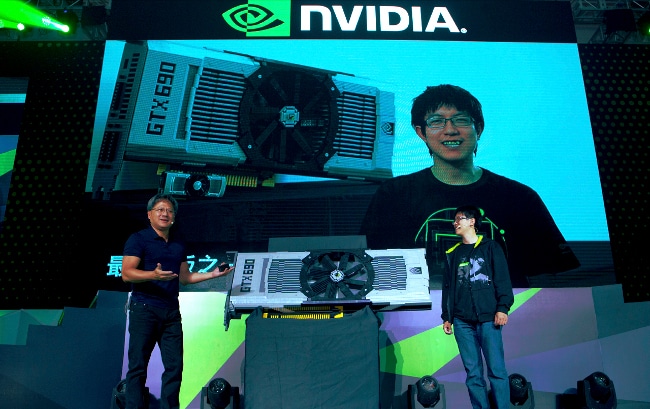 Jen-Hsun then detailed our new Maxwell GPU architecture, traded quips with the audience and led them in chants. Jen-Hsun explained that while our previous generation architecture, Kepler,  was already used in some of the world's most powerful and efficient PCs and supercomputers, Maxwell provides twice the efficiency and double the performance.
It's No Myth
Forget speeds and feeds for a moment. This kind of power can do awesome things. Jen-Hsun showed the audience a video explaining how we proved the Apollo 11 moon landing happened by using Maxwell, our new GPU architecture, to model the scene captured by one of the landing's most iconic photographs.
For years, conspiracy theorists have claimed an iconic shot of Buzz Aldrin clambering down the lunar module's ladder could only have been taken in a studio. By using Maxwell to simulate the way the sun's rays – coming from behind the lander bounced off the moon's surface, and another astronaut's suit to cast light on Aldrin as he stepped off the lander – we showed the photo was authentic.
Game developers are more than ready to put that power to work. Jen-Hsun was ready with  demos of Tencent's "Monster Hunter Online" and Snail Game's "King of Wushu" showing what NVIDIA can do for some of China's most popular gaming franchises.
Competitive Frenzy
Another highlight from the event: nine high-profile eSports tournaments featuring teams competing in League of Legends, World of Tanks, Guild Wars 2 and World of Warplanes, among other titles. Fans also had a chance to gawk at NVIDIA-powered PC gaming rigs created by fans, and check out offerings from more than 20 hardware and software partners.
Plus there was an opportunity to get hands on with our latest gear. An NVIDIA Demo Zone gave gamers hands on time with the newest GeForce GTX graphics cards, Tegra-powered mobile devices like our SHIELD tablet and SHIELD portable, our GRID cloud gaming technology and a demo of the Oculus virtual-reality headset.
Maybe one of these products will be the next one to be turned into a massive Lego sculpture.