Flashy colors. Sharp curves. Exotic materials. Want to make news at a car show? Up until recently, it involved unveiling a design with radical sheet metal and letting the camera bulbs flash away.
Well, something new is happening at this year's 2014 Los Angeles Auto Show.
A new generation of digital interiors – along with sleek exteriors – are grabbing headlines. Auto designers are now creating new kinds of dashboard displays that are as visually striking as their sculpted exteriors.
The truly radical part: powerful, ubiquitous processors from NVIDIA mean car buyers will be finding this new generation of digital interiors in showrooms everywhere. The auto industry will never be the same.
Just visit Audi's stand. It's buzzing, thanks to the TTS Coupe and Roadster, which are making their American premiere. Both feature breakthrough NVIDIA Tegra-powered virtual cockpits.
The displays in these cars feature beautiful digital gauges, multimedia and navigation with Google Earth and Street View. And it's all in a user-configurable cluster right in the driver's line of sight.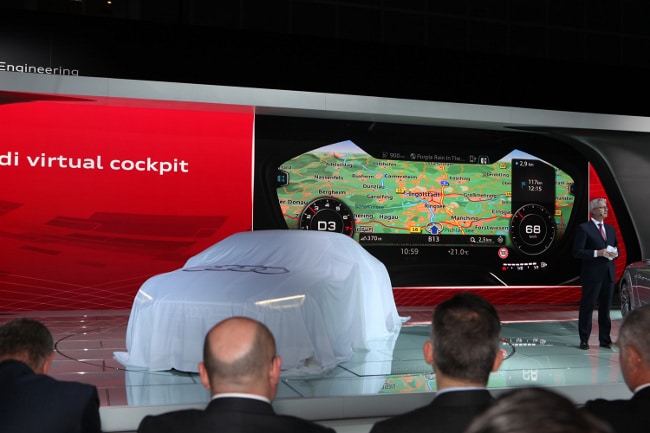 Nearby, the Audi A6, S6, A7 and S7 all feature updated styling. Distinctive new headlights, new engines and, now, the second-generation Audi Modular Infotainment Platform, also powered by Tegra 3.
And more is coming. At the climax of its press event, Audi unveiled a concept car, the Prologue, to show where Audi's design team will be going next.
Its sculpted exterior is gorgeous. But it was the car's interior – featuring four touch displays – that left the audience stunned.
It's a beautiful meeting of technology and design that redefines luxury for the future digital cockpit.
On the other side of the LA Convention Center's South Hall, BMW's new X5 M and X6 M had their world premiere.
Like BMW's new 2 series convertible – and distinctive i3 and i8 – the X5 M and X6 M feature BMW's NVIDIA-powered Connected Drive systems.
NVIDIA-powered displays could be found everywhere at the show. Volkswagen is showing off cars with NVIDIA Tegra-based infotainment systems with the eGolf and the Golf SportWagen.
And MINI held the North American premiere of the new MINI hardtop. The four-door hatchback features a new MINI Connect system with advanced infotainment features powered by NVIDIA.
Of course, it wouldn't be a car show without wildly charismatic concept cars and exotic vehicles that aren't meant for the mass market.
MINI's exquisitely designed Superleggera concept is one that will be talked about for years, thanks to its distinctive fin running down the middle of the trunk and signature Union Jack tail lights.
Lamborghini, Bentley and Aston Martin models at the show all feature NVIDIA-powered infotainment.
What's new this year is that just about every car coming to market now has digital capabilities that would have seemed like science fiction just a few years ago.
Who wants the keys?
The LA Auto Show runs through Nov. 30. So you still have time to check it all out for yourself.