By day, the cubes of NVIDIA are filled with engineers, accountants and salespeople.
But at night (and sometimes at lunch) those same people are transformed into orcs, dwarves and goblins. They roam around Azeroth in hordes, raiding, exploring, battling and completing quests. Some even find love in real life.
Ten million subscribers make World of Warcraft the most popular MMORPG (massively multiplayer online role-playing game) in the world.It's more than a game. It's a passion.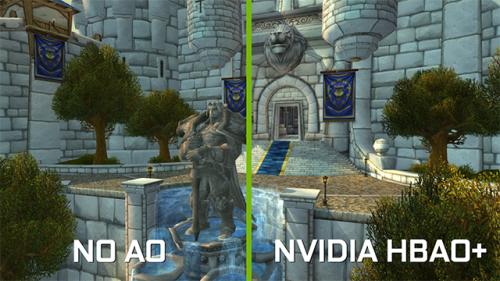 And for the gamers at NVIDIA, that passion runs deep. That's why we're thrilled to reveal World of Warcraft: Warlords of Draenor is the latest game in our GameWorks lineup.
With its latest patch, the game gets a visual upgrade to lighting and shadowing in the form of NVIDIA HBAO+.
This tech adds realistic ambient occlusion shadowing and shading around objects and surfaces that occlude light. And it does so with a considerably higher degree of precision than previous AO techniques. The result is a more immersive gaming experience.
GameWorks is a great platform for game developers.
It encompasses all of the game-related tools and technologies we have invented and refined over the years.
Our 300+ visual effects engineers develop libraries, developer tools and code samples while working closely with developers to help make their games amazing.
With GameWorks, a developer can provide new features and upgrade the visuals by patching an existing title.
HBAO+ delivers accurate shadows  that makes foliage pop with more fidelity.
World of Warcraft: Warlords of Draenor shipped last November to the delight of NVIDIANs and millions of other World of Warcraft players around the globe.
Just a few months later, Blizzard is delivering an even better version with dazzling in-game shadows and lighting.
NVIDIA HBAO+ is quickly becoming a favorite of the development community.
It's a fast, simple way to add an exceptional level of detail to a game.
Best of all, HBAO+ won't have a noticeable impact on frame rates when rendering all of its excellent AO shadowing and lighting. Check out the full list of titles with HBAO+.