8:42 – The crowd hoots wildly, as Damien sends off his best to his friends in Warsaw.
"It's unheard of at launch to have 50 titles upon launch. This is a discontinuity in the industry," Jen-Hsun says. "Every 10 years or so, new technologies let us make video games more beautiful, beginning in the 1980s. Before that, we had to go to arcades to play, dropping in an ocean of quarters.
Then in the 1990s, another technology made possible the most successful game system in history. Semi-custom chips arrived and made the Playstation2 possible, and made possible a laser-format delivery system.
Then in the 2000s, the internet happened and xBox 360 became possible.
Now, 14 years latser, mobile cloud technology is starting a trend that changes how games are delivered. You can now just point, click and play to game. It's an approach that's not just more convenient: it can be more beautiful.
With SHIELD, games aren't limited to hardware that's refreshed just once a decade. This approach is terrific for millions of gamers who enjoy consoles. But we want to expand their number by 100x.
Using mobile cloud we can not only expand the reach of gaming, we can make it more convenient, more powerful. SHIELD is 2x more powerful than xBox 360. So it's possible for us not only to make gaming more convenient but also more amazing.
I'm now going to show you a demo that's not possible on a game console, Jen-Hsun says. Just two years ago, we showed this on a $3000 PC with state of the art GPUs.
"This is the most cinematic experience I've seen in real-time. It's the most advanced game engine in the world, which Tim Sweeney, the force behind Unreal Engine,  is now giving away for free, including our GameWorks capabilities," Jen-Hsun says.
Jen-Hsun now shows UE4's Infiltrator Demo. It's an eye-popping sci-fi dystopia, that to some degree looks like it could have been filmed with cameras. With glinting eyes, subtle shadows, and hail of fiery bullets.
Jen-Hsun now wraps up and recaps his three announcements:
World's best TV experience with 4K Android;
AAA game titles on Android;
And a revolutionary game-streaming service.
We'd love to do for games what Spotify has done for music, what Netlfix has done for video, Jen-Hsun says.
What do you guys think? he asks. Jen-Hsun is greeted with thundering cheers, and ends with a dazzling video. It shows the world connected with green polygons fashioned as neurons, connected to each other in a swirling universe.
8:28 – And there's one more game that Jen-Hsun conjures up. It's from a developer called CD Projekt Red, from Poland. On stage bounds its young senor game designer, Damien Monnier.
Says Damien, "I'm not going to lie, I didn't think SHIELD would work. But it's awesome. To me as a dev, it's very cool because for the first time ever, I can buy one for my mom who doesn't have a beefy PC and for the first time ever, she can play the games I'm working on."
So, Damien shows his game The Witcher III: Wild Hunt. It has stunning color and detail focusing on a witcher, a bounty hunter with special powers that allow him to fend off wolves and monsters.
The untamed world of this action-adventure game is a graphics showcase, with stunning vistas and detailed characters, including Geralt of Rivia, the witcher himself.
8:23 – Another amazing developer from Japan is introduced, Keichiro Imaizumi, senior producer of Konami, developer of Metal Gear Solid.
Ken is hugely excited about GRID and begins talking about the quality of its streaming capability.
He shows off Metal Gear Solid V: Ground Zeroes, with a scene in driving rain. Light reflects off puddles, off the protagonist's clothes.
Ground Zeroes is a short prequel in the Metal Gear Solid franchise that sets up the upcoming Phantom Pain installment. It showcases amazing new graphics powered by the Fox Engine that you'll be able to enjoy on GRID.
8:18 – Jen-Hsun explains that the GPU that's driving Grid 2 at 1080p, 60 FPS is actually many, many miles away.
"This is a level of performance that, frankly, it's not easy for any game console to achieve," he said.
There are dozens of other games available in the SHIELD store. Among the launch titles are Batman: Arkham Knight and Dying Light. Another is The Witcher 3: Wild Hunt, which will be sold on the store for just under $60.
Jen-Hsun shows how to buy a game, just by paying through Android, and picks up Resident Evil: Revelations 2, the latest chapter in the definitive horror shooter franchise, delivering an intriguing tale and a terrific co-op mode. He introduces the game's producer, Capcom's Michiteru Okabe.
The game itself is fairly terrifying, taking place in a misty glen, with rich undergrowth, and hyper-realistic buildings and characters, who are trying to defend themselves.
8:11 – Jen-Hsun now shows Grid 2, a bracing, vivid racing game.
There's really no better way to test cloud-gaming – and your reflexes — than with a car racing game. For one, any latency really shows. And this title has lots of real-world locations and cities, like Paris, and four decades worth of cars you can choose from.
8:09 – GRID plays, he says, in "half the blink of an eye." It's as if the computer is playing right next to you, not from a distant data center.
Over time, the number of game sessions we have in the cloud at Amazon Web Services will grow quickly, so energy efficiency is going to be hugely important. So is speed – we count every single clock tick. We meticulously ground down every one of them over the years. Even game controller was made WiFi direct to be faster there.
If we didn't solve this incredibly difficult problem, if we didn't undertake the journey, it wouldn't get done. So, we worked on it year in and year out.
If you have a fairly good Internet connection, I can get a response from a computer based in Oregon in 150 milliseconds. That's half the blink of an eye. It was, he says, an incredible feat of engineering.
The service has two subscriptions, available in May, when SHIELD hits the stores. There will be a basic subscription and a premium version. In addition, you'll be able to buy and play, in less than a minute, AAA titles that are released simultaneously on other platforms. On the day of their launch on other platforms, AAA games will be available on GRID. But you'll play first, without having to download it.
8:02 – Jen-Hsun now shows the 50+ Android launch titles that are available.
"You know have a revolutionary device, world's most advanced TV device, with 4K video, a store full of amazing games. We'll have 50 at the time of launch on the Tegra X1 platform.
Now he announces the price: just $199, with a controller. This triggers a wave of applause, even hoots and wolf whistles.
Plug it in, type in your Google address and all your Android content comes up automatically
But there's a third announcement, too. We've been working on this for a long time because it's an incredibly difficult problem.
"What if we could stream games from the cloud, the way we stream movies or music. We could expand gaming the way no one in history has."
NVIDIA has been testing this in public for a few months in various places around the world, running from Amazon's data center.
I'm now pleased to announce that we have in our hands the "world's first game-streaming service, The NVIDIA GRID game-streaming service, which will play in a premium version at 1080p, 60 frames per second.
Not only is it a click-and-play service, instead of downloaded hundreds of gigs of games, with richer experiences, you can click and start playing in less than a minute.
Watch live video from NVIDIA on www.twitch.tv
7:56 – Any breakthrough platform, Jen-Hsun says, needs to answer one question. The one question: Can it run Crysis?
He introduces CEO and president of Crytek, Cevat Yerli. "We got to access the SHIELD console and were amazed at the power of Tegra X1. We compiled it, we had it running and it was amazing."
First, he says, they ported their engine, and so we tried to run Crysis 3 on it.
Crysis 3, running on a thumbnail-size processor on a console that sits quietly in the living room, comes on the big screen. This game is the ultimate benchmarking game because of its detailed graphics.
Crysis 3 is a sprawling open-world shooter is set in a richly-detailed New York, circa 2047. You won't believe what's happened to the place. Frank Sinatra was walking there only 50 years earlier.
The answer is: It can play Crysis!
7:52 – Next up is Tim Willits, Studio Director of id, which created Doom.
Jen-Hsun said that when Doom came out, NVIDIA almost went out of business because all of our engineers just played Doom, which has done so much to support the development of 3D graphics.
Tim gets a huge round of applause as he comes up in an untucked dark blue shirt. He's talking about Doom 3: BFG Edition, the only edition on an Android platform.
Doom, a great first-person shooter, helped kicked off the entire PC gaming revolution. Doom 3: BFG updates this sci-fi shooter, set in 2145 on Mars for a new generation of gamers, featuring a catastrophic invasion unleashed from Hell.
Doom 3 BFG Edition polishes this action-packed package to a high shine on Android.
7:47 – What about other games, Jen-Hsun asks. Next up is Alen Ladavac, CTO of Croteam.
Alen shows off The Talos Principle. It's a brand new indie game coming to Android set in medieval times. It's one of  the highest-rated titles on STEAM. It's part of the new puzzle genre, and benefits from photorealistic filming in France and Croatia to capture real-life textures and environments.
Alen says, "this is the first time we compiled to a new platform and it worked really well." He says it's the very same quality as a PC game.
7:44 – Jen-Hsun now shows off the SHIELD Controller, which is designed for serious gaming. "Everything was meticulously and obsessively designed. It's engineered for performance. And made to game."
What we need is a great store. Well, Google Play will have thousands of games. We created a store to curate the best of the best games, the ones designed for SHIELD. At time of launch, we'll have 50 games optimized for SHIELD.
Let's go now to some of our amazing games. So, he welcomes Randy Pitchford, president of Gearbox Software, who created the Borderlands franchise.
Randy, dressed in jeans with a dark jacket,  tells Jen-Hsuan from the stage: "This is an incredible platform. We love it. We love partnering with NVIDIA. They care about the same things we do."
He asks the audience if they want to see Borderlands: The Pre Sequel running on SHIELD's Tegra X1. This game was just on Playstation, just on PC.
Borderlands is an irreverent sci-fi first-person shooter, the latest chapter in the Borderlands saga that arrived for PCs last October. Now it's, amazingly, coming to Android thanks to the power of Tegra X1. It has a huge fan base and Gearbox is a long-time NVIDIA partner.
7:40 – If the first announcement is a revolutionary way to enjoy TV. The second is about gaming.
He shows a great slide that shows Kevin Spacey, in his role as President Frank Underwood from House of Cards, sitting glumly, in a rumpled tuxedo at the end of a long night, in a darkened room, gaming by himself.
Gaming on TV right now is all about the console. However, we can expand the reach of gaming 10-100x if we can make it more accessible by putting it just a click away. If we can do to gaming what Spotify could do to gaming, millions can enjoy that.
To this, Jen-Hsun, said, we need to start with our latest mobile processor, the Tegra X1, which is 35X faster than the Apple TV. Being faster than a Smart TV device is good, but not good enough for great games. You need a platform to let developers have a platform that lets them deliver great games. If you compare it to xbox 360, it has 2X the performance, 6x the memory at one-fifth the power.
The question is why is that important? A hundred million have enjoyed consoles. But there are more than a billion with TVs. If we give developers a platform that lets them put games so you click and get them from the cloud, it will save people from digital downloading, from buying DVDs.
He shows a 3D blow up of SHIELD, with different pieces broken out. With this device, you can game for 40 hours between recharging. "For some of you, that's a typical gaming session."
7:32 – "This is really fun. You can spend hours rambling to your television," Jen-Hsun says.
He shows how you can go through your photo album, too. Video is next up, which he shows, coming in in glorious ultra 4K.
We've built a very high performance smart TV device, which is snappy. You can launch anything so it's smart and sanppy.
He shows off the glossy, black remote which has just four buttons. It's incredibly simple. It has a high-data rate bi-directional Bluetooth. There's a one-click, one-touch button. :It has the ability to be a Bluetooth receiver, if you want to listen to your TV privately – or if you were asked to listen privately, it will ensure joy and peace for the whole family," he said. It's USB rechargeable and has a mic on the bottom.
7:28 – SHIELD is world's first Android 4K TV, with 10-bit processing. It has gorgeous video. It will be able to receive 4K, 60 hertz video very soon.
He's now joined by a colleague who shows off the Android TV capability. Google really cracked the TV operating system wth this, he said. There are four greatest things about it.
First, it's based on the most popular OS in the world. Second, the richness of the Google Play store, with it huge range of applications. Third, it syncs with all my other devices. Finally, it has an incredible voice search capability.
First things he shows off is playing movies. They show The Avengers, who happen to work for an organization called SHIELD. Jen-Hsun jokes that they stole our name.
He shows how Android TV shows the full range of an actor's videography.
Then he shows how it lets you search for music. Jen-Hsun jokingly calls up Justin Bieber's discography.
7:22 – Everybody will want a smart TV experience. It's a multi-billion-unit market. And I think NVIDIA could make a unique contribution.
Today, we're introducing NVIDIA's first living room entertainment device, the NVIDIA SHIELD. The slide calls it the "world's first Android TV Console."
A striking video comes on that shows the device, a sleek box the size of a paperback book, with a pitched top with a green glowing chevron on it.
He begins to describe what it needs to be physically: elegant, modern, exquisitely-shaped device with an anodized metal stand that lets it stand vertically. It connects to Ethernet, USB connectors and such. It looks good in every direction, and happens to be incredibly thin. And it looks different from every side.
This draws health response.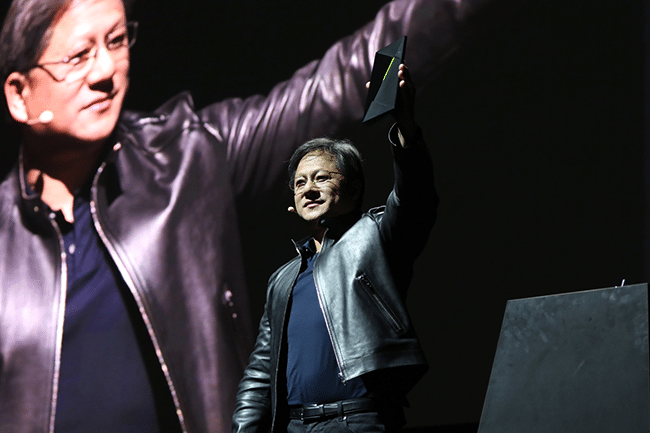 7:19 – The Modern Living Room is the focus. There's lots of entertainment there – on-demand video, gaming consoles. But one of the more popular developments is using tablets to connect to the TV with Chrome Cast. But this is just the tip of the iceberg, a sign of things to come. Mobile cloud will revolutionize our TV experience, just as it's revolutionized communications.
Just as smart phones will be how we enjoy phones. Smart TVs is how we will enjoy television. They're growing incredibly fast. These devices will replace dedicated devices over time, just as an application has replaced your GPS, your music player, your radio, your camera.
Smart devices running applications will increasingly disrupt the dedicated devices around it. What's really exciting is applications you've never dreamed of. Who'd have thought that Uber or Twitter would come along? They're possible only because the smartphone is connected to a cloud service.
I think the same thing will happen to television, Jen-Hsun says. Applications will come along and replace all sorts of things we can't even predict.
7:15 – We've been waiting for this day for many years, Jen-Hsun says. And he shows a slide with three boxes: Revolutionary TV, Game Console. Supercomputer. He says he'll have an announcement that involves them all.
He's now launching into a brief history of NVIDIA, talking about the company's invention of GPUs and the extent to which they're used in the design of just about everything we use. The next big invention was CUDA, which allows GPUs to be used for parallel computing problems. And 10 years later, just recently, we invented the virtual GPU, in which the GPU is in a data center in the cloud.
That journey has been incredible indeed. And today, I want to talk about a brand new place it's taken us – the living room, Jen-Hsun says.
7:11 – Lights dim. Music shifts up a gear or two. Crowd quiets.
And Jen-Hsun Huang, NVIDIA's CEO and cofounder, comes out beaming. The man couldn't be talking about a topic that makes his heart smile more.
He's in trademark gear. An enviable black leather jacket, black pants and a black shirt.
He begins….
Watch live video from NVIDIA on www.twitch.tv
7:30 – Five minute warning. Music is cranking. Against the broad stage is a back wall with the logo of the show, Made To Game. It draws itself in neon outline, slowly taking shape in white and green beside an NVIDIA green, irregularly shaped chevron.
6:55 – GDC pulls in just about the widest ranging audience of any of our events. There are analysts in suits. Gamers in hoodies. Developers in jeans and really nice shoes. NVIDIA operatives in black shirts, black pants, look French underground-ish. It's a casual event, though, and half of them – well, not the NVIDIANs – are walking in with bottles of one thing or another.
6:50 – Not long now. We're about to start NVIDIA's biggest-ever gaming press event.
There are about a thousand game developers, press, analysts and partners filling out The Masonic, located a mile or so as the drone flies from ground zero for this week's Game Developers Conference.
It's an interesting venue. A mid-20th century pile in one of the city's most affluent neighborhoods, Nob Hill, near the gilded Fairmont Hotel. Think former digs of Leland Stanford, who went on to found a great football team. And a university, too.
If you were here in a week you could see Ringo Starr. In a month or so, you could see Sleater-Kinney. In a season or two Weird Al Yankovic.
But this is going to be much more fun. Maybe louder, too.