Researchers from Harvard University snagged the fourth annual Achievement Award for NVIDIA Centers of Excellence, recognizing their work using GPUs to study extended excitonic systems and vibrational-excitonic effects.
Separately, Esteban Walter Gonzalez Clua, a researcher from Brazli's Universidade Federal Fluminense, has been named a CUDA Fellow
The Harvard team, led by Nicolas Sawaya,  received the top award for their work focusing on the way light is photosynthesized, and how this knowledge might be used to design better photovoltaics and light-emitting diodes.
Additionally, three other finalists from top universities were selected by a panel of experts from among our 22 CUDA Centers of Excellence.
The winning team will receive our new NVIDIA DIGITS DevBox, a plug-in appliance for deep learning that's  equipped with our NVIDIA DIGITS deep-learning software and four TITAN X GPUs. Other finalists will receive a GeForce TITAN X, the world's fastest GPU.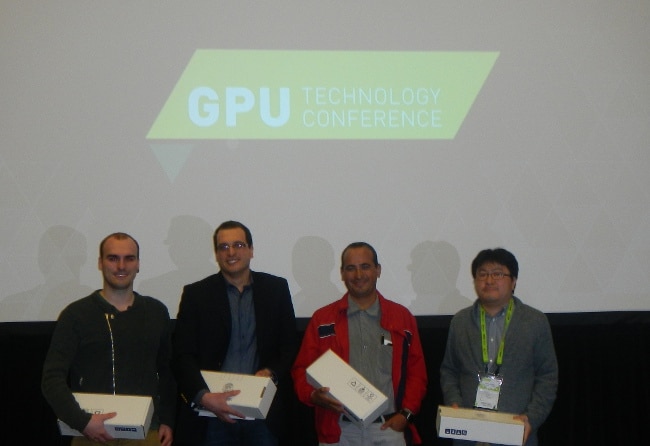 In addition to the Harvard team, the finalists include:
Tokyo Tech, team led by Hitoshi Sato, for work on big data processing on GPU-based supercomputers.
Technische Universität Dresden, team led by Axel Huebl, for work on the OpenACC profiling interface
Universidade Federal Fluminense, team led by Esteban Clua, for their CUDA education and evangelism.
New CUDA Fellow Announced
As a CUDA Fellow, Clua will help lead the use and adoption of CUDA, and continue to spread the word about GPU computing.
He is an associate professor and vice-director of the Computer Science Institute of Universidade Federal Fluminense in Rio de Janeiro. He has served as a visiting professor at 10 universities worldwide.
Having worked with GPUs since  they were still simple raster devices and with CUDA since its launch, he is among the most published Brazilian researchers in GPU computing, with more than 100 full papers in journals and conferences.
His work focuses on complex data-structures for GPUs, GPU clusters and grid architectures.
He is co-founder of SBGames – the Brazilian Symposium of Digital Entertainment and Video Games – which is the largest such conference  Latin America. He's also the president of the Brazilian Computing Society Game Committee.