James Grunke is a man of few words. And fewer buzzwords.
But our director of eSports doesn't need a PowerPoint deck to make his point. All he needs is a comfortable, well-worn leather couch.
Grunke's plopped that couch down in the middle of the sleek, new GeForce eSports Studio he's built in our Silicon Valley campus. And he's invited the world to take a seat.
Hang out and you can watch people from around NVIDIA drop in for sessions of CounterStrike:GO, DotA2 or League of Legends.
"I love working here," one gamer quips, upon entering the room for the first time. "I can't believe this exists."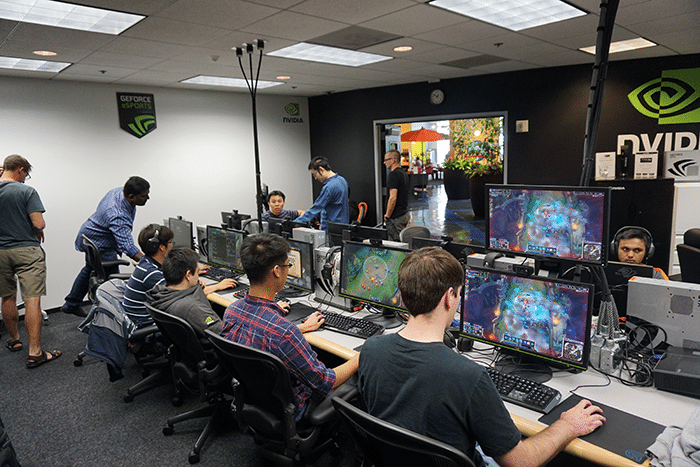 Industry hub
But the black and green room — and its dozen gleaming silver high-end Falcon Northwest Tiki mini towers — isn't just a hangout for NVIDIANs. It's becoming a hub for the entire industry.
Grunke is a laconic Wisconsin native with short-cropped, salt-and-pepper hair, and has led our eSports efforts for more than five years. He first got the idea to build the eSports Studio after organizing our global "World of Tanks $100K" tournament last year.
Like many NVIDIANs, Grunke got pulled in deep — he's now a Tier 10 WoT player — and wanted to build a showcase at NVIDIA for eSports. So he got to work. He even brought the couch from home. You can see where his Doberman Pinscher, Diva, took a bit out of the right armrest. The center opened its doors last November. "But it's still not done," Grunke adds.
"With PC gaming, you're never done building," adds Clay Causin, our eSports Studio Manager who has championed the center.
'You do this for a living?'
The eSports Studio may not be done, but it's already looking good. And we're not shy about showing it off. In addition to NVIDIA employees and partners, Grunke and Causin have brought in local groups of school kids to visit. "Every kid who comes through here is like 'You do this for a living?'" Causin says.
The room is stocked not just with gaming gear, but with the gear that keeps gamers connected to their competitors — and their fans. Social media services like Twitch.tv — there's almost always a stream playing in the studio — now give gamers a way to share the action on an unprecedented scale. Championship matches now command more viewers than NBA and Major League Baseball playoffs.
Connected to the competition
And technology like Logitech digital web cameras and our own GeForce Experience technology — which gives every gamer equipped with NVIDIA GPUs the ability to live stream their games — make gaming an even more social experience. And, of course, the games in the eSports Studio are running on our latest Maxwell architecture-based GeForce 980 GPUs and G-SYNC monitors.
About the only thing that isn't state of the art is Grunke's couch. So it's being replaced with sleek, new stuff. But while the couch will soon be gone, Grunke's plan to give us all a seat right in the middle of the competitive gaming action is here to stay.