Blu-ray players. Streaming boxes. Game consoles. Cable boxes. Incompatible remotes. Blinking lights. Wires everywhere.
You don't carry around a flip phone, a GPS device, a laptop and a digital camera. Smart apps have turned bags of unmanageable mobile devices into something truly mobile. Yet your living room can still look more like a robot factory floor than a place to relax.
Stay tuned. Smart apps are about to cut the clutter here, too.
At its annual developer conference Thursday, Google described how it's bringing Android — and its 1.3 million apps and Google-powered cloud services — to your living room with Android TV. Ten days later, industry watchers expect Apple to introduce a new version of Apple TV at its annual developer conference.
The Future Is Already Here
This isn't the first time that tech giants have tried to reinvent TV. But it is the first time all the pieces have been in place. For one, the content's already here — Netflix, YouTube and Twitch.tv are thriving on smartphones, PCs and connected streaming boxes.

So are the apps — with mobile game developers showing how content and community can be bound together in powerful new ways.
The last piece is the power to put all this at your command. That's NVIDIA SHIELD, Android TV's flagship device.
The stakes are enormous. The new generation of smart entertainment apps promises to reshape some of the world's biggest — and most influential — industries. The worldwide pay TV business is worth $257 billion. The TV advertising business is worth $170 billion. Console games generate $26 billion in revenue. And that's just the start.
Cut the Cord, Connect Your Content
On-demand content is the first killer app. While the number of traditional pay TV users has been flat for years, Netflix has 57 million subscribers, more than double Comcast's 22 million. Twitch.tv, which broadcasts live streams of video games, now reaches more than 100 million unique users each month. Apps like Tablo now let you watch — and record — broadcast and cable television from any connected device in your home.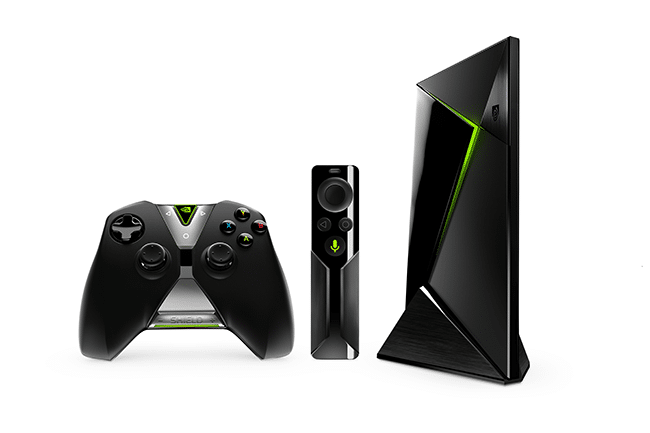 With Android, Google has built a foundation of connected software for all these apps. On SHIELD, Android TV's advanced voice recognition capabilities — already fine-tuned by input from millions of smartphone users — serve up the content you want. No need to fumble with a clumsy on-screen keyboard. Even more futuristic: SHIELD lets users select a character as they're watching a movie and tap into Google's servers to instantly call up the actor's entire body of work. The result: interesting facts, and surprising recommendations.
App(etite) for Disruption
This new generation of connected apps will make possible capabilities that TV fans have dreamed of for years. Apps like Netflix connect to cloud-based servers to serve up content you'll want to watch, delivering on the promise of personalized content. Hungry for barbecue? Apps will connect you to the same click-for-delivery convenience you're already enjoying on your tablet.
Mobile games may offer the best case study of what's coming. Because they're hard-wired to Android, mobile games already integrate sophisticated online gameplay, in-app purchases and sprawling online communities of fans. The result: mobile games will generate $30 billion in revenues this year, exceeding that from console games for the first time. PC and console developers are moving their biggest hits to Android and iOS.
Power to the People
It's difficult to keep up with. Consumers replace their sets every seven or eight years. Their capabilities are quickly surpassed by internet-streaming boxes consumers can grab for as little as $49.
Consumers need powerful, media-savvy processors to take advantage of these smart apps. And by 2018, consumers will own more than 100 million ultra-high definition 4K televisions. SHIELD's 256-core Tegra X1 processor makes it the first set-top box with the power to push apps into this high-def, big-screen world.
What's Next?
All these trends will speed up as brands follow consumers to connected smartphones, tablets and set-top boxes and their powerful apps. Online TV advertising will more than double its share of total TV advertising revenues to $9.7 billion in 2018 from $3.7 billion last year, according to Pricewaterhouse Coopers.
Broadcasters like ABC, CBS, Fox and HBO are distributing content to consumers through iOS and Android apps. So are brands like Red Bull. Stars like Jerry Seinfeld are adapting, too. The comedian worked with Acura to bundle content and branding together for his hit online video series, "Comedians In Cars Getting Coffee."
NVIDIA SHIELD puts all this at your command. Better still, it gives developers the power to create killer apps, connecting your TV to new content and new capabilities in surprising ways.
Grab some popcorn. This is going to be fun.
More on SHIELD: What's On TV? With NVIDIA SHIELD, Whatever You Want … Here's How | This is How You Play TV: NVIDIA SHIELD Now Available, Ready to Redefine Your TV Experience