From Taipei's sticky summer streets, slip into the Grand Hyatt's grand lobby of marble, brass and bird's-eye maple. Ascend two hushed floors, beyond the glittering restaurants with minimalist flat wear and maximalist menus.
A quick turn or two later, you're smack in the middle of NVIDIA's Computex demo hall. It's a post-modern stage done up in green and black, where computer gaming's future is on vivid display.
That future is crammed with immersive, virtual-reality experiences; with 4K G-SYNC monitors and notebooks that eliminate stuttering and tearing in computer games; and with streamed games delivered up on the just-released NVIDIA SHIELD Android TV device.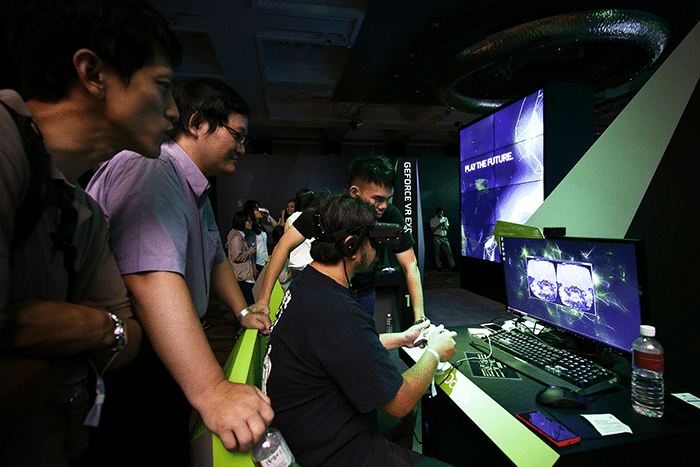 Hundreds of press, customers and some lucky visitors steadily pass through as the day wears on at this week's Computex tradeshow. Asia's biggest tech event, it's in the backyard of some of the world's most ambitious electronics manufacturers — like ASUS, Acer, Quanta and Pegatron — and will draw some 40,000 visitors from 160-plus countries to over 5,000 booths.
But the buzz is at the NVIDIA hall.
Acoustic Foam to the Rescue
Consider the six virtual reality rooms. They're cosseted in black, pyramid-studded acoustic foam — both to absorb the surrounding roar and to cushion those who bob and weave, crouch and lean while donning the new Oculus  "Crescent Bay" headsets. Far lighter and more comfortable than their predecessors, the displays allow for 360-degree head tracking and expanded positional tracking.
There are jaw-dropping VR experiences — like Showdown by Epic Games, featuring a car that gingerly flips just above your head; EVE: Valkerie, a game featuring full-surround, multiplayer dogfighting deep in space; and Back to Dinosaur Island, where you wend your way past just-hatched dino eggs and dodge a massive dragonfly before coming nostril-to-nostril with a T. Rex.
They're powered by the just-announced NVIDIA GeForce GTX 980 Ti, our flagship gaming GPU, sporting 8 billion transistors and six gigs of memory. It has the muscle to deliver the 90 frames-per-second speed needed to push VR past queasiness and into immersion. Helping to make the experience more realistic still is our newly introduced GameWorks VR software development kit, which enables VR headset and game developers to build incredible experiences on GeForce GPUs.
Lethal Discs, Impregnable Shields
But nothing can touch the VR two-person battles played out in Disc Arena by the Hydra team at CCP Games, the Icelandic developer behind the Eve Online sci-fi role-playing game. Its experimental VR technology subsumes your limbs, bringing them into the virtual world. Standing atop a towering podium, you hurl lethal discs at your opponent and defend yourself with an impregnable glass shield, which can deflect discs back at their thrower.
Those savaged in battle and requiring more sedate engagement can play VR games like Lucky's Tale. It's a cartoon platform game by Playful, where you help a highly energetic fox bound its way through acres of light-hearted challenges.
Or, if you're content to revert to two-dimensions, a range of games is available on the world's first G-SYNC notebooks from ASUS, AORUS, Clevo and MSI, which will be available later this month, at resolutions up to 4K. There are a range of new G-SYNC desktop monitors, including elegantly curved ones from Acer and ASUS.
And taking pride of place on the floor is Asia's first demo of NVIDIA SHIELD.
Released just days ago at the Google I/O developers conference, the flagship Android TV device draws fans with its shockingly acute responsiveness to spoken voice commands that instantly summon up video and audio content, plus a whole library of Android gaming titles.