GPUs help power some amazing devices — supercomputers, powerful telescopes, rovers on Mars.
Now, add something decidedly more domestic to the list: an oven.
But the June Intelligent Oven is no ordinary oven. It's a beautiful, sophisticated feat of engineering. It's loaded with gadgets and gizmos to make everyone look like a Michelin-star chef incapable of overcooking or undercooking a meal.
Thanks to computer vision and deep learning technologies, your food is always prepared to perfection. And it uses the NVIDIA Tegra K1 processor to make critical cooking decisions, so you don't have to.
An Oven That's Smart, Inside and Out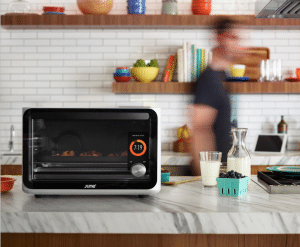 A year and a half in the making, the June oven has a sleek industrial design that features a full-width oven window with an integrated touchscreen to maximize internal cooking space. The gorgeous 5-inch display gives you control with its intuitive user interface.
Built for the countertop, the oven can fit a whole chicken, up to nine pieces of bread, a quarter-size baking sheet and even a 12-pound turkey.
On the inside, however, is where the magic happens. Using dual-surround convection technology and instant-on carbon fiber heating elements, the June Oven is expert in cooking your favorite foods. Steaks and chicken, cookies and cakes, toast and roasts, even lobster.
A high-definition camera peers down on the food to identify it. The oven can "see" if bagel halves are facing up or down to ensure a crunchier top face and softer exterior.
A scale built into the top of the oven weighs the food to help determine cooking times. Probes determine core temperature.
Machine intelligence algorithms — built on the CUDA parallel computing platform running on the Tegra K1 chip — process the data from these and other sensors for perfect baking.
Plus, the oven will get smarter thanks to over-the-air software updates. And it learns your preferences based on past choices. The result: one-touch cooking at the settings you like, to the doneness you prefer.
June used the NVIDIA Jetson TK1 DevKit to hone their computer vision and deep learning chops during product development.
"We needed a lot of computational horsepower to achieve real-time computer vision," said June's CTO and co-founder Nikhil Bhogal. "The NVIDIA Tegra K1 and Jetson TK1 DevKit let us quickly prototype and develop a product that exceeded our expectations."
While the oven offers set-and-forget operation, you can still stay connected. It streams live, high-definition video to phones and tablets, so you can watch your cookies brown or cakes rise. It will even push a notification to your mobile device to alert you when it's time to eat.
You can find out more about the June Intelligent Oven, and even place an order at www.juneoven.com. It ships next spring. And follow @June on Twitter and Instagram and TheJuneOven on Facebook and Pinterest for fancy food-filled updates!