GPU technology toppled letters of the iconic "Hollywood" sign and lashed the Golden Gate Bridge with a tsunami in this summer's blockbuster San Andreas. But that's the movies.
In real life, researchers at the Southern California Earthquake Center are using GPU-powered high performance computing to develop CyberShake, a complex model that calculates how earthquake waves move through a 3D model of the Earth. This helps develop earthquake forecasts and more accurate hazard assessments.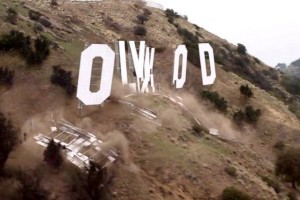 SCEC's initial target is the real Los Angeles region, where the Pacific and American tectonic plates run into each other to create the famed San Andreas Fault, which runs the length of California, and adjacent states.
The groundbreaking work earlier this year helped the San Diego Supercomputer Center, and their collaborators including the SCEC, win NVIDIA's inaugural Global Impact Award and its $150,000 prize.
This spring, the team of collaborators used National Science Foundation and Department of Energy supercomputers — Blue Waters and Titan — to produce the most sophisticated seismic hazard analysis forecast yet for the Southern California region.
Seismic Waves
They performed simulations for 336 separate locations in the region, and doubled the maximum simulated frequency from 0.5 Hertz to 1 Hertz. As that measurement increases, so does the potential for damage–and the complexity of the simulation. Structures such as buildings and bridges are most vulnerable to damage by seismic waves between 1 and 10 hertz.
But the required scientific calculation poses a huge computational challenge. At 1 Hertz, the CyberShake calculation for each specific location required 33X more computational work as at 0.5 Hertz. Thanks to the parallel processing efficiency of GPUs, however, they needed only 7X as many node hours.
SCEC, located at the University of Southern California, is led by Director Thomas H. Jordan. Working with him is Yifeng Cui, director of the High Performance Geocomputing Laboratory at the SDSC, at the University of California, San Diego.
"With more people moving to cities in seismically active regions, economic risks from a devastating earthquake are high and getting higher," said Cui. "GPU capabilities, combined with high-level GPU programming language CUDA, provide the computing power required for acceleration of numerically intensive 3D simulations."
Hazard Information Maps
The goal is to build more accurate hazard information maps from earthquake hazard simulations — the kind supplied by the U.S. Geological Survey, which supports SCEC's work. The maps would also aid seismologists and utility companies in addition to engineers responsible for building codes.
"The general public wants immediate (short-term) forecasts, but there's no good scientific technique to make predictions yet — it's not like a weather forecaster saying it's going to rain, so you know to take a coat," said Philip Maechling, an associate director at SCEC who collaborated with Cui on the study.
With GPU-powered supercomputing architecture, more complex quake simulations can be run efficiently and quickly. Structures respond in different ways to seismic waves of different frequencies. Skyscrapers and highway overpasses are at most risk during long-period shaking, while smaller buildings are more vulnerable to high-frequency shaking.
"We want our information to be applicable to a wider range of buildings," Maechling said. Engineers will be able to apply these models to other parts of California, and the globe, so one day no one will have to face the devastation in San Andreas outside of the movie theater.
NVIDIA invites submissions for the 2016 Global Impact Award through the end of October.