You know you mean a lot to a company when it takes you on a cruise around San Francisco Bay, gives you a free SHIELD Android TV device for winning an art contest, and lets you ask the CEO anything you want—even his opinion of PowerPoint presentations—after just a couple months on the job.
That's exactly what life was like for this summer's gang of NVIDIA interns.
Alex Bogart recently finished his bachelor's degree in computer engineering and his second summer at NVIDIA. His junior year, he braved a rare Southern California weather phenomenon—rain—to hit up NVIDIA's booth at the USC career fair. The precipitation caused the long lines in front of our booth to disperse, so he walked right up to our campus technical recruiting team and applied.
Alex experienced the deep learning revolution first hand. Last summer, he was working with our machine learning team on image recognition. This summer, the team had pivoted to DIGITS, our new deep learning software. "When I got put on this project, I knew nothing about deep learning," said Alex. "That was a great opportunity."
Getting Down to Business
Alex was one of over 200 summer interns at our Silicon Valley headquarters. Along with another few dozen interns scattered across five regional U.S. offices, they've worked hard on our latest projects in hardware, software and computer architecture.
"They're not here just doing work that a regular engineer is too busy to do," said Monica Spehar, who runs our internship program. "They're working on real projects."
It's no wonder many of our interns come back for another summer stint, or a full-time position after graduating. "It's pretty much a three-month interview for a full-time position," Spehar said, citing the high number of interns who come back to stay.
Like Richard Wan. He just finished his third summer here, working on a hard-drive cloning system. He'd like to come back full time once he completes his master's in electrical engineering at Stanford.
Along with our proximity to Santa Cruz's surfing scene, the Atlanta native kept coming back for the culture. "Everyone's trying to work towards the same goal," he said. Richard's advice to future interns is to put yourself out there. "Even if you make a fool of yourself in front of everyone, you'll only be there for two months."
Soumya Balakrishnan and Pranami Bhattacharya were both first-time NVIDIA interns who will be returning as full-time employees once they finish their master's degrees in January. Soumya, who's at USC, worked on our GRID Gaming team. Pranami, who attends Texas A&M, worked with our Tegra team, building tools for our Android devices.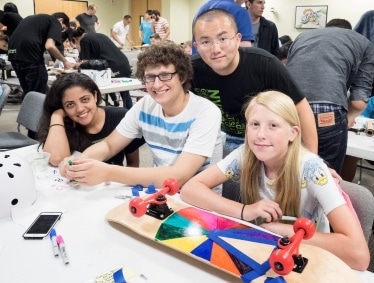 Pranami appreciated the support she received from other NVIDIANs during her internship. "When you come on day one, you're totally blank," she said. "Your manager realizes you don't know everything, but they're there to guide you."
Work Hard, Play Hard
Our University Recruiting team creates a strong intern community through events such as paintball, an art contest and a weekly speaker series with company executives, including CEO Jen-Hsun Huang. Our interns also got into the NVIDIA spirit of community service by building skateboards for kids from the local Boys and Girls Club.
Anna Hankinson came to NVIDIA from the University of Toronto because of the deep learning and social impact applications of our technology. She got her biggest project by asking her manager for more to do.
"Just ask and see what you can get," she advised future interns. "An internship is what you make of it."