During a medical crisis, time lost can mean lives lost.
The problem can be acute in developing nations, where the latest medical equipment, personnel and expertise may be scarce.
Bridging that gap is the goal of AlemHealth, a diagnostic telemedicine-services provider based in Dubai. Its GPU-powered AlemBox is advancing patient care by allowing physicians in nine hospitals and diagnostic clinics in Kabul, Afghanistan, to tap into a global network of radiologists and other specialists to get accurate diagnoses quickly.
The strife-torn city's limited electricity and connectivity infrastructure make traditional, costly health IT systems impractical. But the AlemBox, developed with the Jetson TK1 devkit and powered by the NVIDIA Tegra K1 processor, leapfrogs these limitations by providing high-quality, low-cost health IT services over a 3G mobile connection.
Filling the Gap
Kabul's conflict-battered population swelled fourfold in the past dozen years to an estimated 6 million, making the Afghan capital one of the world's fastest-growing cities. Jobs, education and services — including health care — aren't keeping up with such fast-paced urbanization.
There are scores of hospitals in Kabul, many with full radiology departments. However, the shortage lies in radiologists to read the images and quality control measures to ensure consistency. AlemHealth's mission is to offer diagnostic services at the initial point of care, wherever that may be. In a developing nation like Afghanistan, that can mean clinics without modern health IT infrastructure, or reliable utility services to support it.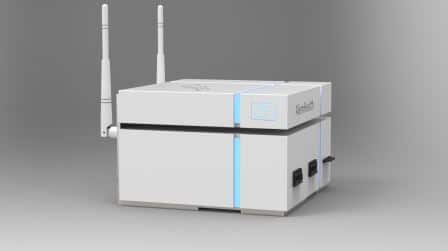 "CT images, X-rays and clinical-level data are critical to patient care," said Aschkan Abdul Malek, AlemHealth's co-founder and chief executive officer. "We're giving doctors access to that information wherever they are."
Instead of operating its own clinics, AlemHealth taps into a global network of radiologists, expert in interpreting X-ray, MRI and CT scans, as well as specialists in areas such as mammography.
Images taken at a local facility are uploaded to the AlemBox. The Tegra K1 chip inside quickly processes these often huge digital files. They're then sent to a specialist in the U.S., Europe or India over a mobile connection using AlemHealth's low-bandwidth protocols. They assess the images and return a diagnosis in as little as 90 minutes. AlemHealth is also applying machine learning algorithms to bring new intelligence to the data sets they are building from images, patient histories and treatment plans.
Changing the Delivery of Health Care
AlemBoxes include onboard GPS and 3G connectivity and cost around $200 each, far less than a traditional radiology set-up. "We want to serve 900 hundred clinics, not just the nine we serve today," Malek said.
It hired former game designers to create the device's interface because "they had great imaging skills," he said. "We wanted to make our interface intuitive and easy to use for patients, facilities and physicians."
As the AlemBox "can fit 10 to a backpack," their mobility means diagnostic services can be deployed in refugee camps and in emergencies, Malek said. "We are changing how health care is delivered."
In addition to digital imaging, pathology and laboratory services, AlemHealth offers ultrasound and maternal care for expectant women in remote regions. It plans to distribute the AlemBox further into the Middle East, sub-Saharan Africa and Southeast Asia in the coming year.