The holidays will soon be upon us. And a deluge of new games is heading your way. With Triad Wars and RollerCoaster Tycoon World you won't have to wait until December to unwrap your first presents.
Triad Wars is a free to play, open-world online multiplayer game from United Front Games and Square Enix that is in beta now. A spin-off the popular Sleeping Dogs game, in Triad Wars players attempt to rise to power as a criminal kingpin of the Hong Kong underworld. Players forging their personal criminal empire manipulate the Triad underworld. Along the way, you'll enjoy an unrivaled combination of fighting, shooting and driving.
A Cinematic Storytelling Technique, Powered by GameWorks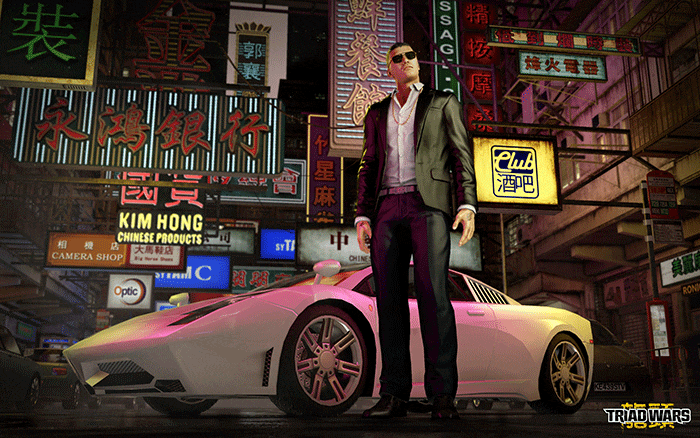 To achieve the game's moody cinematic feel, United Front Games uses NVIDIA PostWorks for Depth of Field. It's a collection of GameWorks libraries developers can use to simulate film-like post-processing special effects. This is no gimmick. Triad Wars uses it to help focus players on telling details during cut-scenes and key gameplay moments that propel the game's story forward, just as a real camera would.
Triad Wars also uses NVIDIA HBAO+ (Horizon-Based Ambient Occlusion). It's a fast, simple way to add an exceptional level of shading detail to areas of a game under ambient lighting. NVIDIA HBAO+ adds realistic ambient occlusion shadowing and shading around objects and surfaces that occlude light. It offers a much higher degree of precision than previous techniques. So scenes look less "flat" and more realistic.
GameWorks-Powered Amusement
RollerCoaster Tycoon World is, of course, a very different kind of game than the dark, gritty world of Triads. But like Triads, the latest installment of the theme park construction and management simulation franchise from Nvizzio Creations, in partnership with Atari, is a graphical thrill ride.
The game's developers recently held their first open beta weekend for all PC pre-order customers. The RollerCoaster Tycoon World beta was a technical demo focusing on the coaster building system and gave tycoons a taste of the sandbox experience and cool parks they will be able to build when the game launches in December.
This was also the first time RollerCoaster Tycoon fans got to experience NVIDIA HBAO+ in their favorite series.
NVIDIA HBAO+ has gained traction in the development community as a way to add exceptional shadow detail to games. You can see it in The Witcher 3: Wild Hunt, World of Warcraft: Warlords of Draenor,  Assassin's Creed Unity, Call of Duty: Ghosts and many other titles.

Developers have packed the holiday season with new game releases. And NVIDIA has loaded up many of those games with our GameWorks technology. Triad Wars and RollerCoaster Tycoon World are among the first of many. Stay tuned.