Mural-covered walls. Outdoor learning spaces. Community gardens. Sounds like a welcoming college campus, but you'll find these scenes at a group of schools in an area of East San Jose, upgraded and beautified through NVIDIA's annual Project Inspire community service events.
Held each December in place of a holiday party, Project Inspire has grown in its nine years from a one-day, 500-person event, to a two-day effort with 1,500 volunteers. But its goal remains the same: helping to improve key institutions in nearby low-income communities.
Since 2007, our volunteers have made over community farms, restored, restored historical parks, and revamped high-need schools across Silicon Valley as part of a nearly $6 million effort to support educating local kids.
In recent years, we've focused on the Alum Rock Union School District, in East San Jose. This weekend's work will target Sheppard Middle School and the adjacent Painter Elementary School, which have more a thousand students.
With these, Project Inspire will have had on impact on more than 3,000 Alum Rock students, or 29 percent of those in the district, where we'll have supported half a dozen schools with nearly $3 million in donations. Our infographic highlights the work done in the district.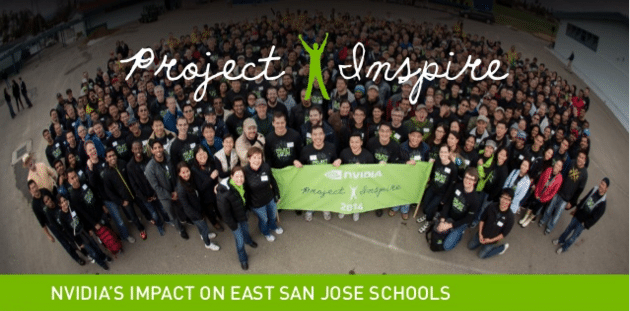 Challenges in Silicon Valley
San Jose, home to some of the world's best-known tech companies, is also home to children who have just a few dollars a day for food. Some 87 percent of kids in Alum Rock qualify for a free or reduced lunch, that's more than 50 percent above the national average.
In such communities, as many as one in four students are at risk for dropping out before finishing high school. Project Inspire focuses on keeping kids on track. Our volunteers work together to transform the schools' physical environments to help get kids excited about learning.
Building outdoor classrooms and education gardens, painting educational and inspirational murals upgrading fitness facilities and creating seating areas are among the many activities we undertake, as a way of establishing a more welcoming and nurturing setting for students.
San Jose native Cindy Tsan, a Sheppard alum, works in marketing for NVIDIA, said she can't wait to help rejuvenate her old school.
"Things were pretty basic, like furniture and supplies," she said. "There was no color; everything was a sort of tan. It's a place where it would be easy to get off track. What we're doing will be mind-blowing. I want to leave a space that will inspire the students."