NORAD diligently monitors North American skies year-round for missiles, planes and other airborne objects. And on Christmas Eve that includes Saint Nick, which it tracks from the moment his sleigh lifts off via the NORAD Tracks Santa website.
NORAD — the North American Aerospace Defense Command — tracks Santa using Cesium, an open-source WebGL globe and map engine shepherded by Analytical Graphics Inc., of Exton, Pa., which develops analysis and visualization software for the aerospace, intelligence and defense industries.
WebGL uses powerful GPUs to render images in a web page. This allows NORAD to show maps that capture everything from satellites to snowflakes in eye-catching detail, aided by support in the latest internet browsers.
"On Christmas Eve, you can be mapping your way to Grandma's house, while your kid is in the back of the car tracking Santa in 3D on a phone," said Tom Fili, a senior 3D software engineer at AGI. "Santa tracking is a full 3D interactive experience and it can run on any device."
Santa Tracking Spans 60 Years
NORAD and its predecessor, the Continental Air Defense Command, have tracked Santa's flight for 60 years, when an advertisement misprinted the telephone number for children to call Santa. Instead of Saint Nick, the number connected children to the CONAD commander-in-chief's operations hotline.
When calls came in, Colonel Harry Shoup, then director of operations, had his staff check the radar for any signs of Santa navigating his way from the North Pole. Updates on Santa's location were given to children who rang, and the tradition has continued, with military staffers still answering inquiring calls.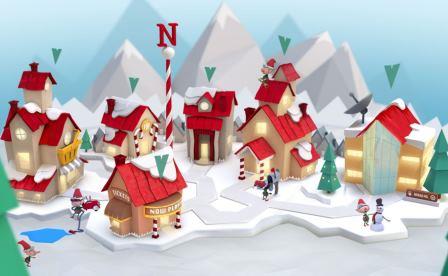 Nowadays, tracking Santa is much easier, thanks to the NORAD Tracks Santa phone and tablet apps. Or Facebook, where NORAD's Santa tracking page has almost 1.6 million followers and updates on the @NoradSanta Twitter handle.
"We want the ability to track Santa to work on as many devices as possible and for people to have a great experience," Fili said. "Instead of the usual street view, a 3D experience means you can get in and move around. "
With more than 20 million people expected to view the NORAD site on Dec. 24, everything has to work smoothly. Viewers will be able to zoom in up close as Santa soars over mountains and dives down city avenues. "We make good use of NVIDIA hardware; it takes what we have to another dimension," Fili said.
Flight profile data gleaned from 60 years of tracking suggests Santa visits the South Pacific first, then Australia and New Zealand before heading west. Data also shows he likely has rosy cheeks from riding his sleigh in cold weather, and weighs about 260 pounds (before milk and cookies).