Let's make a bold call about this year's CES right now.
If you're looking for the sexiest product here, swing by the Daimler-Benz booth.
The German automaker is just one of the automotive companies using NVIDIA to build new products. More than 10 million cars on the road right now are powered by NVIDIA technologies. And a tour through CES 2016 will convince you that more are coming. You'll find NVIDIA technology powering demos from a wide range of companies from North America, Japan and Europe.
Here's a peek at just three:
Mercedes Brings Its Stunner to Vegas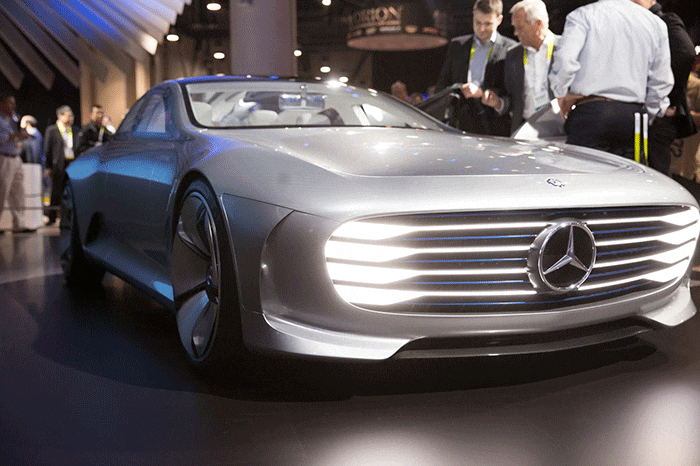 The Mercedes IAA is a stunner, with a beautiful form that fulfills a very real function. The concept car transforms depending on the speed of the vehicle, with its tail extending another 40 centimeters to give the slippery silver sedan an even sleeker shape when it's cruising.
No concept car is complete without a jaw-dropping interior. And inside, the Mercedes IAA has an elegant digital dashboard powered by NVIDIA DRIVE CX, our automotive cockpit computer.
Dancing Through Traffic
You'll also find NVIDIA technology on display by automotive software developer FKA. The German company is showing how it uses the NVIDIA DRIVE PX platform — which combines a CPU and a GPU on a single chip — to accelerate its trajectory planning software.
This is tough stuff. FKA set out to build trajectory planning software that can steer vehicles through a wide variety of conditions. The sophisticated software finds the optimal steering and acceleration control inputs to maneuver a car through traffic. In short, it's about helping vehicles generate human-like behavior, a task that requires vast amounts of computing power and latency measured in milliseconds.
Finding Your Way
HERE — co-owned by Audi, BMW and Daimler — announced another key piece of next-generation driving technology at CES. It unveiled cloud-based high-definition maps that will be key for advanced driver-assistance systems and autonomous cars.
HERE's ultra-precise maps — so-called HD maps, which provide details down to 20 centimeters, or a bit more than half a foot — are critical to helping cars safely navigate the real world.
Stop by our booth at CES 2016 to learn more about how we're giving cars superhuman new capabilities. For our own demo at CES, we merged data from HERE's maps with information about the environment around the car picked up by a host of sensors. This shows how it's possible to orient cars with precision that can be measured in centimeters.
It's All Coming Together
While just a few examples, these three very different vendors show how a huge number of pieces — such as semiconductors, software and sensors — can help humans operate vehicles more safely, and efficiently.
Want to learn more? Stop by our booth to learn how we're using deep learning to give cars capabilities that are, literally, superhuman.