A system of automated electric vehicles, known as WEpods, just made history by becoming the first self-driving shuttles to take to public roads. They're the first vehicles in the world without a steering wheel to be given license plates.
Unlike other forms of automated transport, these cheery little six-passenger vehicles don't travel in special lanes, and they're not guided by rails, magnets or wires.
Instead, they're steered through traffic by a complex set of systems, including several NVIDIA-powered brains, between the towns of Wageningen and Ede in the central Dutch province of Gelderland.
To summon a WEpod, passengers just tap on an app on their smartphone.
Hitting the Road with Deep Learning
The story behind this first: a new kind of technology — called deep learning — that lets computers teach themselves about the world through a training process that is widely adopted for vision-based systems.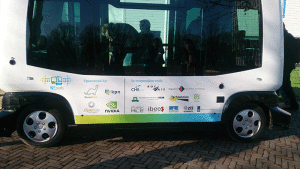 Deep learning has already given computers the ability to surpass human capabilities on a number of tasks. And it's critical for autonomous vehicles, where it's just not possible to hand-code for every possible situation a self-driving car might encounter. Especially with regards to interpreting the objects surrounding the vehicle.
No wonder, then, that the WEpod team at the Delft University of Technology — along with auto manufacturers such Audi, BMW, Ford and Mercedes — have turned to deep learning on NVIDIA GPUs.
Data Driven
The result is a vehicle that's able to build a complete picture of the environment around it as it travels through traffic.
Each WEpod continuously assesses its environment and options at high rates, resulting in a dynamic system able to deal with real-world situations of mixed traffic quickly, reliably and safely.
"This is a massive computing challenge," said Dimitrios Kotiadis, senior researcher from TU Delft.
A GPU-Powered Supercomputer on Wheels
GPUs have been key in meeting this challenge. Unlike CPUs, which sprint through a handful of computing tasks at a time, GPU are built to work on thousands of computing tasks at once.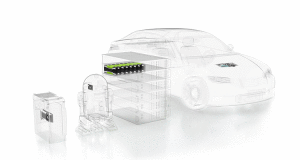 This parallel architecture — coupled with our software tools — make GPUs ideal for many kinds of deep learning tasks (see "Accelerating AI with GPUs: A New Computing Model"). And it was key to accelerating the training and deployment of WEPod's autonomous vehicles.
"NVIDIA technology plays a crucial role in enabling us to meet our computational requirements," Kotiadis said. "Each WEpod is in many ways a supercomputer on wheels."
Summoned by a Smartphone
The result is a new kind of public transport concept that offers the convenience of a personal vehicle, without the hassles of car ownership.
Although the vehicles are running on a fixed route for now, the WEpod team hopes other cities will adopt WEpod technology once the trials are complete. The system will start operations  in May.
"Autonomous, on-demand transit systems like WEpod have the potential to revolutionize our cities," said WEpod Project Manager Jan Willem van der Wiel.
We're glad to be along for the ride.