You've got $500 riding on the big game. And you're just one field goal from cashing in when a big play threatens to sink your carefully considered bet. Do you scream in frustration? Or do you make a contrarian play and double down?
Thanks to Swish Analytics — and GPUs — you can see the odds of winning change just as fast as the players on the field drive the action.
"We want to be the ultimate second-screen experience for bettors and fantasy players to make smarter in-game wagers, track their teams and follow games," says Corey Beaumont, Swish's chief operating officer.
Your Secret Fantasy Football Weapon?
That kind of responsiveness opens up huge possibilities. Swish started by bringing the kinds of analytical tools used in the credit card industry to the $1 trillion sports betting market. Then, they accelerated their predictions with GPUs. The result: insights that move fast enough to appeal to hard-core bettors and casual fans alike.
It's an opportunity that's taken the 27-year-old entrepreneur and his co-founders, Joe Hagen and Bobby Skoff, out of the world of finance — where they were part of a team that built and sold a startup, ChargeSmart — and into a global sports culture that's being upended by the proliferation of data.
"We all dabble in sports betting, fantasy sports and the analytics surrounding games," says Beaumont, who's a huge fan of the Golden State Warriors. "So we set out to build Swish for people like us."
Give These Guys Some Credit
Swish takes the same kind of mathematical models lenders use to assess whether a borrower is a good risk and applies them to sports. While sports geeks love statistics, those stats have always consisted of backward-looking information — how a player has performed in his last few games or seasons — in the form of batting averages or quarterback ratings.
Swish's pitch: as sports betting — and fantasy sports — flourish, and coverage of sports becomes more real-time focused, there's an increased need for accurate and reliable predictive data. Every year, fans wager $400 billion on sports in the U.S. and upwards of $1 trillion globally.
Swish gives subscribers predictions about the outcome of every game, a win confidence percentage, player and referee analysis, plus hundreds of other statistics through visually appealing dashboards and tools. They charge $99 a month per sport for betting analysis. Daily fantasy tools that help fans build winning teams cost $20 per month per sport.
While Swish doesn't promise to deliver a winning pick every time, their track record is impressive. For example, Swish says it delivered a 30 percent return on investment to bettors who followed its recommendations for every game of the latest NFL season.
Moving Faster with GPUs
But Swish wanted to move faster. Last November, at the L.A. Dodgers' Accelerator Demo Day, Swish introduced moment-to-moment predictions that move as fast as the on-field action.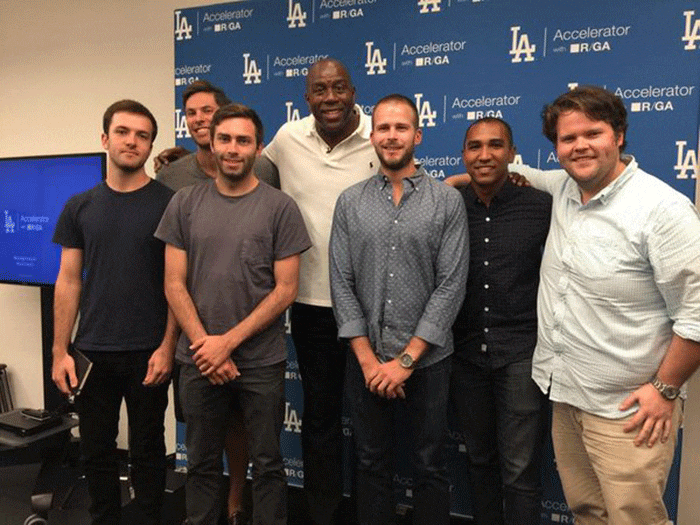 To create its magic, Swish sucks in data from more than 30 different sources. It then feeds that data to NVIDIA GPUs to help project the win probability for each team, expected points for the current drive, and predictions for three primary bet types — money line, point spread and point totals — along with real-time fantasy updates.
To build that service, Swish turned to NVIDIA GPUs hosted by Amazon Web Services (AWS) to hustle through the numbers after every play. Unlike CPUs, which sprint through a handful of computing tasks at a time, GPU work on thousands of computing tasks at once (see "What's the Difference Between a CPU and a GPU?").
Swish's developers used NVIDIA's CUDA parallel computing platform to make calls to Amazon's GPUs from the algorithms they'd built into traditional Python and R code. "It made a real impact in the number of iterations we can achieve when developing our live NFL analytics tool," Beaumont says.
That promises to open up access to sophisticated analytics capabilities to average bettors as the most sophisticated sports books — and the biggest bettors — are using real-time data to wager on ever smaller slices of the action.
The Next Big Play
More's coming. Soon, Beaumont says, Swish will be providing predictions on potential play types before they happen. So, for example, Swish could let users see what the outcome could be if a football team chooses to run the ball or pass it, and how those outcomes could change the game.
Those kinds of insights could give Swish appeal to even casual sports fans. Imagine real-time predictions in sportscasts that give viewers the ability to know the significance of a change in field position in an instant. Or apps that let fans — like Beaumont's mother — check on the outlook for tonight's game on their smartphones.
"It will be like checking the weather forecast," Beaumont says. "Only more accurate."
Sounds like a smart bet to us.
Featured photo: Daniel X. O'Neill.