Editor's note: This is one of five posts profiling finalists for NVIDIA's 2016 Global Impact Award, which provides $150,000 to researchers using NVIDIA technology for groundbreaking work that addresses social, humanitarian and environmental problems.
Haiti's devastating 2010 earthquake collapsed much of the infrastructure essential for disaster response, including every hospital in the capital city, all transportation and every major communication system.
That made a deep impact on David Lattanzi, a structural engineer, who arrived soon after the temblor to assess the integrity of bridges, hospitals and homes. Realizing that faster inspections would allow quicker decisions about the safety of critical facilities, he developed a new approach using high performance computing.
"The longer it takes for an inspection after a disaster, the longer people can't return home or go to work. Hospitals can't operate. Basic services can't function," said Lattanzi, an assistant professor at George Mason University in Fairfax, Virginia. "There's a huge social and economic cost."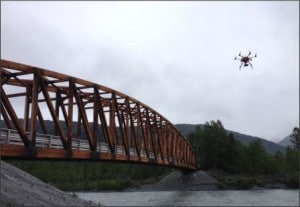 Lattanzi uses robotic inspection systems – such as drones – to create virtual 3D models of civil structures, for both routine and post-disaster safety assessments.
This work placed Lattanzi and his team among five finalists for NVIDIA's 2016 Global Impact Award. We award our annual grant of $150,000 to researchers using NVIDIA technology for groundbreaking work that addresses social, humanitarian and environmental problems.
Assessing Alignment
While Haiti helped broaden Lattanzi's perspective, high performance computing helped sharpen his focus in tackling the biggest issues engineers face during assessments — like how far has a structure moved from its original alignment.
"The areas of damage that we're looking for could be tiny," Lattanzi said. "There are challenges in how you crunch such a large amount of data. It wouldn't be computationally viable without using GPUs."
Creating 3D reconstructions of large structures using conventional methods based on photography for mapping or surveying, known as Structure-from-Motion, can fail to provide the resolution needed for analysis. Lattanzi's team embraced the principle but applied it to 3D constructions using data captured from digital images taken by drones.
The drawback: giant, overwhelming data sets produced by the unmanned robots. Assessing a bridge that's 100 meters long could result in as many as 10,000 high-resolution images.
Capturing Critical Details
To capture small details, Lattanzi's team developed a method taking "cloud points" from drone images and merging them into a final model.
High-res inspections would require models using billions of cloud points, so the team designed Hierarchical Point Cloud Generation, or HPCC, to recreate scale-accurate details, while representing a structure's overall geometry. With HPCC, engineers can zero in — at a 100x improvement in resolution — on tiny details to assess structural integrity and alignment.
A series of image capture "networks" were developed for every drone flight. Each flight plan images a structure at a different scale, including the structure's overall shape. Individual flights captured large-scale images as well as smaller critical details. Watch the drone in action as it surveys the bridge.
High Performance Hardware
To crunch the data, the team relied heavily on GPU acceleration from NVIDIA Tesla accelerators. Without GPU speedup, which accelerated computation times by a factor of as much as 10x, it would weeks to build a 3D model of a single building or bridge.
The team tested the process last year in Alaska with a drone-based bridge inspection for the U.S. Forest Service. Precise pilot navigation of the drone allowed the team to capture data efficiently without placing people in danger. "The results blew us away," Lattanzi said.
This bridge inspection in Alaska was done in partnership with the University of Alaska Fairbanks, which built and flew the drones, and the U.S. Forest Service.
Lattanzi's team also used NVIDIA Quadro and GeForce cards for visualization in the final models. High-performance hardware is required when models commonly exceed 1 billion cloud points in size.
With GPU acceleration making the overall assessment process more practical, it could also be adapted for use as a safe, low-cost assessment tool in pipeline management, airport management and land surveying.
The winner of the 2016 Global Impact Award will be announced at the GPU Technology Conference, April 4-7, in Silicon Valley.
More Global Impact Award 2016 nominees
GPUs Help Monitor Rising Sea Levels with Pinpoint Accuracy
How GPUs Help Eye Surgeons See 20/20 in the Operating Room
How Imperial College Uses GPUs to Spot Brain Damage
Check out the work of last year's NVIDIA Global Impact Award winner.