We teamed up with a pair of legendary stuntmen to drop gamer Tim Schultz out of a twin-engine plane flying 15,000 feet over Georgia earlier this month.
We partnered with Loot Crate — which offers its subscribers a monthly box full of geeky goodies — to award the jump with professional skydiver Jeff Provenzano — along with our SHIELD Android TV gaming console and a year-long subscription to our GeForce NOW on-demand gaming service.
Gaming, after all, is about more than just gadgets. It's about experiences — whether that involves science fiction epics or run-and-gun shooters — that are shared with friends, family and other gamers.
SHIELD: Taking Gamers to New Heights
And Tim, our winner, was up for it when notified in December that he was the one lucky Loot Crate subscriber in the world who held the coveted "Mega Crate" golden ticket awarded every month. The result was an amazing experience, and not just for him.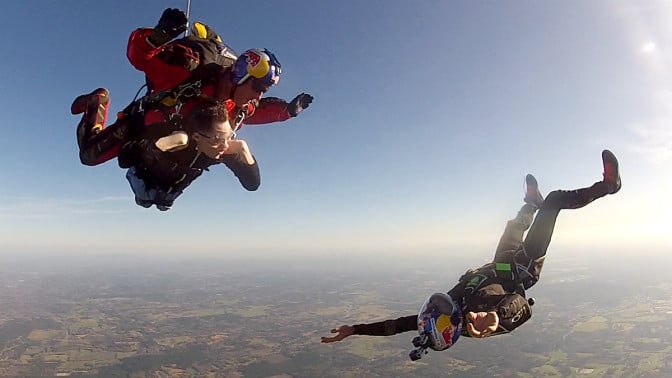 In addition to being a long-time NVIDIA fan and a multi-generation GeForce GTX owner, Tim is a paraplegic who uses a wheelchair to get around.
As a result, Jeff pulled in his Red Bull Air Force teammate, Luke Aikins, who has a long record of tandem jumps with the disabled, to join us for our jump with Tim, while Jeff filmed the action.
Rule Your Living Room with SHIELD
Jeff, affectionately known by friends as "Jeffro," has been one of our extreme sports heroes for some time. He helped pioneer the skydiving discipline of "swooping." He also invented a move known as "the miracle man," which involves spinning around and around in your parachute just before touching down on the ground.
Last year, we dropped him out of a C-130 Hercules cargo plane — along with a complete living room — thrusting them both into a world of chaos as they plummeted toward earth at speeds approaching 200 miles per hour. All the while, Jeff demonstrated an amazing aura of calm, exemplifying what it really means to have SHIELD Android TV console help you rule your living room.
For Tim's jump, we also brought along one of our favorite social media personalities, Syndicate, to help us tell the tale. You can see his take on Tim's skydive on his YouTube channel.
Down for Anything
For grizzled veterans like Jeff and Luke — who have jumped many thousands of times — seeing the joy on the face of a first-time skydiver like Tim brings back the rush of their very first jump.
"This is the kind of thing that just rekindles and reignites your passion for this sport," Jeff said after the jump.
But we think Tim's reaction, just after he and Luke stuck the landing, speaks for us all.
"What's next!" Tim asked.