No longer just for gaming, virtual reality is now being helping users navigate worlds in architecture, design, medicine and media. This poses new challenges for people working in production and post-production processes — and is a potential game-changer for video editors.
Creating immersive cinematic VR experiences in these fields requires a huge amount of processing power. That's why Mettle's SkyBox, a popular video editing plug-in, is built to be accelerated by NVIDIA Quadro GPUs. Together, they ensure smooth, fast, reliable performance.
Maintaining a Creative Mindset
The new Oculus Rift and HTC Vive headsets, Google's JUMP initiative and the introduction of NVIDIA Iray high-fidelity rendering technology to VR underscore the exciting potential of virtual reality. But 360-degree VR content is still unfamiliar territory for most video editors.
The nature of shooting 360-degree VR — capturing and stitching together footage from myriad angles — doesn't lend itself well to the traditional, linear workflow of video editing. Halting the process to address issues like continuity between shots, visible seaming and blurring pulls editors out of the artistic moment. They become bogged down in the tech, making it difficult to maintain a creative mindset.
This is where the Mettle SkyBox 360|VR Suite comes in. It includes a complete set of powerful 360|VR effects plug-ins for two of the most popular video editing tools, Adobe After Effects CC and Premiere Pro CC.
Smoothly Edit in 360 Degrees
The first of its kind, SkyBox 360|VR Suite delivers transitions designed specifically for editing complex 360-degree content. It automates cinematic 360|VR effects like blurs, glows, transitions and tilting to produce crisp effects that remain fully VR-aware. Blurring, for example, often exposes stitched seams unnaturally, resulting in a unrealistic viewing experience. SkyBox blurs are clean across all stitched video.
NVIDIA Quadro GPUs provide the immense processing power needed to make quick work of these tasks.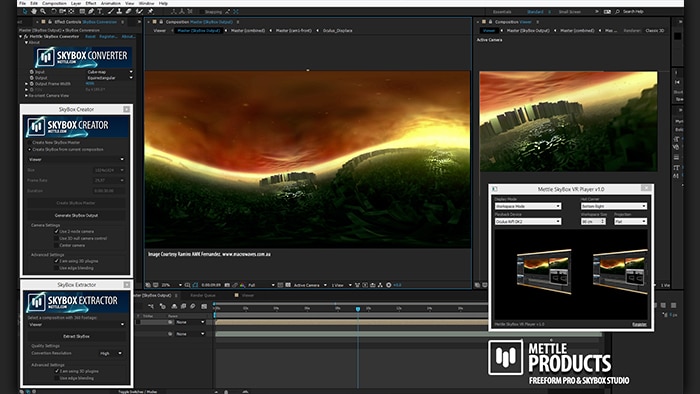 "We've relied on the GPU since the beginning," says Chris Bobotis, creative director and co-founder at Mettle. "We're now in the process of transitioning from OpenGL to the NVIDIA CUDA 8 framework, a move that will amp up our processing speed considerably and ensure SkyBox runs even faster within the GPU-accelerated Mercury Playback Engine of Adobe Premiere Pro CC."
Mettle SkyBox 360|VR Transitions software powered by NVIDIA Quadro GPUs debuts today at the NAB show in Las Vegas. Check it out at Mettle booth N8623 in the VR/AR Pavilion.