Whaaaatt? WHAT! Crazy! I WANT IT. HOLY %#%! And those are just the shouts we can report here.
Hundreds of gamers gathered for a surprise event shrieked with delight and yelped encouragement as NVIDIA CEO Jen-Hsun Huang made a slew of gaming announcements, unveiling the GeForce GTX 1080 — the first gaming GPU based on our new Pascal architecture.
Speaking at the DreamHack gamer gathering in Austin, Texas Friday night, he drew gasps of disbelief as he explained that our newest gaming GPU delivers 2x the performance and 3x the efficiency of TITAN X.
"It's insane. The 1080 is insane, It's almost irresponsible amounts of performance," Huang, wearing a black leather jacket and huge grin, told the crowd of hundreds of gamers at Emo's, one of music-mad Austin's top entertainment venues.
That's thanks to the GTX 1080's Pascal architecture, which offers huge leaps in performance, memory bandwidth and power efficiency. Pascal supports new features and capabilities that redefine what makes a perfect platform for AAA games.
"This is the future of graphics, available today," Huang said. "1080 is the new king."
In the past, GPUs were designed to project 3D models onto single screens. In the modern computing landscape, people game on curved, widescreen displays, 4K and higher resolution monitors, "surround" setups configured with three screens or more and, of course, head-mounted displays for immersive VR experiences (for more details, see "10: Gaming Perfected" on GeForce.com).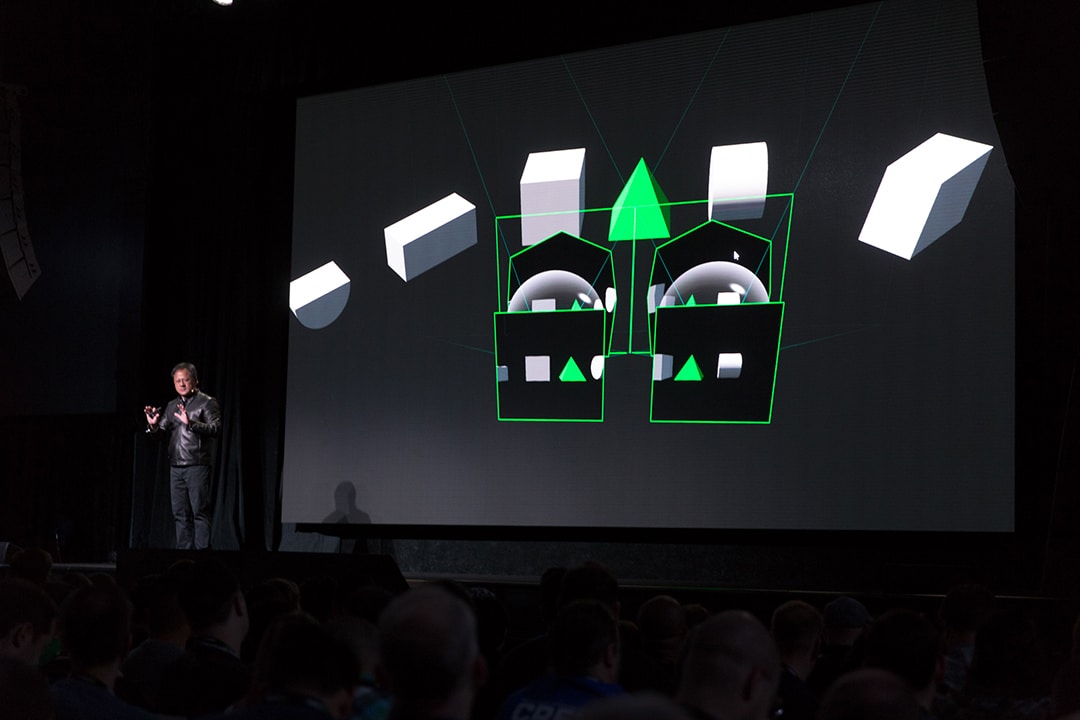 "Several thousand people have been working on this project now for more than two years. This is the largest GPU endeavor, the largest chip processor endeavor, in the history of humanity. The R&D budget was several billion dollars," Huang said.
"Daaaaaamn Jen-Hsun," one gamer shouted.
The Most Advanced Gaming GPU Ever Created
Pascal was designed to bring out the best in this new generation of content. Its greater memory bandwidth and power efficiency let the GTX 1080 run at clock speeds never before possible — more than 1700 MHz — while consuming just 180 watts of power.
Our Pascal-based GPUs feature enhanced asynchronous compute, and are the first to harness the power of 8GB of Micron's new GDDR5X memory. The GTX 1080 is the first gaming GPUs designed for the 16nm FinFET process.
Gamers Go Wild
Gamers at our event got a first look at NVIDIA Ansel, a powerful, easy-to-use game capture tool built in cooperation with leading game developers (for more, see "NVIDIA Ansel Revolutionizes Game Capture for GeForce Gamers"). NVIDIA Ansel will be available on supported games for NVIDIA GeForce GTX 600-series and up.
They also got to experience NVIDIA VR Funhouse, a virtual reality experience we've created from the ground up to highlight what our Pascal-based GPU can do for VR (see "Our First Virtual Reality Experience, NVIDIA Funhouse, Shows What Pascal Can Do for VR").
Huang also detailed how we're expanding VRWorks to help developers bring new levels of realism to VR through sight, sound and touch (see "Pascal and VRWorks Infuse VR with New Level of Presence").
To show what Pascal makes possible, Epic Games CEO Tim Sweeney took the stage to show next generation character models with astonishing levels of realism — with lifelike hair and skin, richly detailed clothing and armor, and light glinting dramatically from every detail.
Audience members gasped when Huang revealed they were all rendered on our GTX 1080 running at more than 2000 MHz, and a temperature of just 67 degrees centigrade, an unprecedented feat.
"The only faster GPU is a Maxwell GPU immersed in liquid nitrogen," Huang said.
Capabilities like these have made the unveiling of our first Pascal-based gaming GPU one of the most anticipated gaming events of the year. That's why we orchestrated an elaborate online scavenger hunt to bring gamers to a surprise launch event that featured the first look at the GeForce GTX 1080 and a live performance by Deadmau5.
Huang, however, wasn't done. Waiting until the end of his presentation, he also announced that we're launching the NVIDIA GTX 1070 as well, with the "Founders Edition," available June 10 for $449, and custom boards from partners expected to start at $379.
The NVIDIA GeForce GTX 1080 "Founders Edition" shown tonight will be available on May 27 for $699. It will be available from NVIDIA, ASUS, Colorful, EVGA, Gainward, Galaxy, Gigabyte, Innovision 3D, MSI, Palit, PNY and Zotac. Custom boards from partners will vary by region and pricing is expected to start at $599.
For more, visit GeForce.com.