Asthma. Cystic fibrosis. Emphysema. The only way to diagnose chronic lung diseases like these, and to measure how well your lungs are working, is by seeing a doctor. But in the developing world, many people don't have a doctor nearby or can't afford to see one.
What people in developing countries do frequently have is a phone, although it's more likely to be a flip phone than the latest smartphone. That's why University of Washington researchers created SpiroCall, a service that makes it possible for patients to check their lung health simply by breathing into a mobile phone.
No Smartphone Needed
SpiroCall builds on the team's app called SpiroSmart, which provides the same service on a smartphone. To develop SpiroSmart, researchers turned to a type of artificial intelligence called deep learning to turn the sounds from the phone into lung function measurements.
"We built SpiroCall because we didn't want to wait for people to get smartphones," said Mayank Goel, a Ph.D. candidate at the university and lead author on a paper he's presenting on May 12 at the Association for Computing Machinery's CHI 2016 conference in San Jose.
Better access to testing is a pressing problem in the developing world, which accounts for 90 percent of all deaths from chronic lung disease, according to the World Health Organization.
In the doctor's office, patients take a deep breath in and exhale as fast and as forcefully as they can until they empty their lungs. A device called a spirometer measures how well the patients' lungs are working.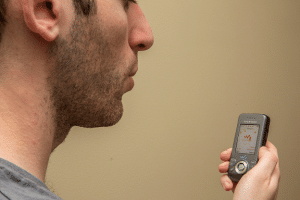 SpiroCall takes similar measurements, only users call a toll-free number and breath into the phone. For SpiroSmart, users record a sound file on their phones instead.
In both cases, the phone's microphone senses sound and pressure from the exhalation. It then sends the data to a central server, which turns it into lung function measurements.
The term turned to deep learning to train networks of artificial neurons modeled on the human brain to convert the sounds of the patient's exhalation into lung function measurements. GPUs — in this case, NVIDIA GeForce GTX TITAN X — are a key driver of deep learning because they provide the speed required to train neural networks on large volumes of data (see "Accelerating AI with GPUs: A New Computing Model").
Home Lung Testing a Plus for Patients
Neither SpiroCall nor SpiroSmart is intended to replace testing in a doctor's office. But they could make home testing easier, allowing patients to track their conditions more closely and detect problems sooner. Although home spirometers are available, they can be difficult to use, cost at least a couple hundred dollars and are usually not covered by insurance.
The team hopes to get its technology into the hands of patients soon. During the last four years, the team tested SpiroSmart on more than 4,000 patients in the United States, India and Bangladesh. Now researchers are readying a submission to the U.S. Food and Drug Administration. If the app receives FDA clearance, anyone with a smartphone would be able to use it.
The next step is to start clinical trials of SpiroCall, Goel said.
"Once this technology is out there in the real world, people will be able to manage their disease better," Goel said. "The kind of impact we can have with this technology is huge, and that inspires all of us."
Plug. Play. Disrupt. Repeat. Learn more about DGX-1, the world's first deep learning supercomputer in a box.