Subpar performance and a poor user experience can plague any geographic information systems (GIS) project accessed from the cloud. But with NVIDIA GRID and ArcGIS Pro, no map is too complex or dataset too large to be delivered remotely as a rich visualization.
To get the most out of ArcGIS Pro, a leading application for working with spatial data, Esri knows that it has to meet a certain threshold. Organizations have been achieving this performance for years on workstations, but delivering that same experience virtually on any device, to multiple users, anywhere has been challenging.
That's changed thanks to NVIDIA graphics virtualization technology. With the combination of NVIDIA GRID, NVIDIA Quadro and ArcGIS, you can achieve full mobility — and easily analyze, manage and create powerful GIS visualizations on any device, from any location.
NVIDIA GRID enables up to 32 users to work simultaneously with large, complex GIS datasets from one host. To demonstrate this capability in dramatic form, we're going to visualize nine different GIS datasets simultaneously at the Esri User Conference, June 27–July 1, in San Diego.
Powered by NVIDIA, the ArcGIS Pro Interactive Map Wall will show user-submitted 3D ArcGIS Pro projects. The wall is driven by NVIDIA Mosaic, a multi-display technology powered by the unmatched performance of NVIDIA Quadro graphics cards. Unlocking the full potential of ArcGIS Pro, the NVIDIA offering synchronizes up to four Quadro GPUs and up to 16 displays per system without sacrificing application performance.
With built-in tools based on industry-standard interfaces, the visualization cluster is easily configured and can be managed from anywhere. Along with NVIDIA nView desktop manager, three Quadro cards, one sync board and an out-of-the-box Quadro driver, NVIDIA delivers a massive interactive map wall with just a few clicks.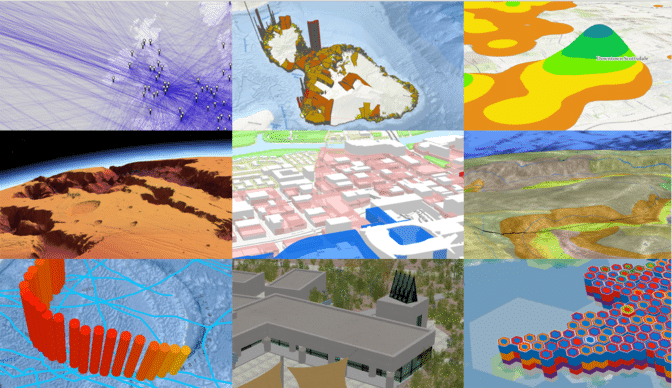 Some of the projects visualized on the wall include:
View a 3D model of the Tijuana River National Estuarine Research Reserve
Explore the surface of Mars in 3D
A 3D view of the variations in parcel property values in Maui, Hawaii
Visualize the spatial distribution of Minnesota's 2012 election results by township
Discover the travel origins and destinations to reveal spatial patterns in Phoenix
Stop by the User Map Gallery in the San Diego Convention Center Atrium to talk with the map authors about their projects and with NVIDIA staff about the technology that powers them. Get an in-depth look at the benefits of virtualizing ArcGIS at the following talks: