From pacemakers to Fitbits, digital technology plays a vital role in keeping people healthy.
Now, some innovative companies are going beyond devices and gadgets by applying VR to expand the capabilities of the medical field.
The same GPU technology used by game developers to animate lifelike VR versions of Mount Everest and Mars is being deployed to improve surgical training, more accurately diagnose disease and offer patients new avenues to pain relief.
Here are three companies paving the way for VR in medicine using NVIDIA GPUs.
Training in Safer Environments
As medical procedures become more complex, it gets increasingly challenging to train surgeons sufficiently. According to Justin Barad, orthopedic surgeon and founder of Boston-based Osso VR, surgeons graduate from training programs without ever performing elaborate implant procedures.
Osso VR is addressing this challenge with a low-cost VR simulation that teaches surgeons how to use new or unfamiliar devices. The simulation uses NVIDIA GPUs and advanced hand-based interactions to create scenarios as close to real life as possible.
One scene presents surgical trays so users can examine individual tools and prepare for the procedure. It then takes the user through the steps of performing procedures in a virtual operating room, such as hammering a titanium rod into a virtual tibia.
With Osso VR, surgeons have a safe environment in which to gain familiarity with tools, learn new skills and experience surgical procedures — without putting patients at risk.
Improving Images and Diagnoses
Doctors and specialists peer at MRI and CT scans to diagnose patients. But it's often difficult to read the flat, black and white images. To improve the accuracy of diagnoses, Bioflight VR is building a solution that uploads the data into a VR environment.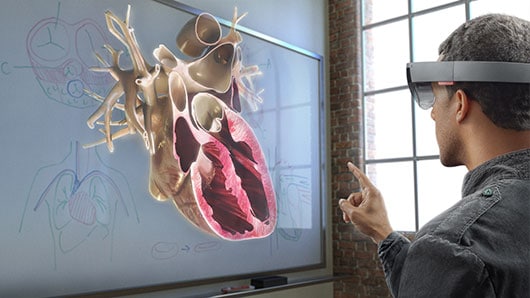 The Los Angeles-based company's virtual and augmented reality platform allows doctors to view CT scans and MRI data as 3D images. The platform's GPU interface lets medical professionals analyze, interact and identify conditions through the virtual environment, viewing details of scans that aren't exposed in regular settings.
Doctors can use this new tool in medical imaging to eliminate the need for invasive procedures, reduce surgical planning time and increase diagnostic accuracy to provide better patient care.
Alternative Treatment for Seniors
Many seniors who live alone struggle with anxiety, loneliness or depression. Seniors can work with doctors to reduce to symptoms, and medication can help. But for patients who struggle to communicate, that interaction is decreased or non-existent.
One Caring Team, based in San Carlos, Calif., is exploring a different kind of therapeutic relief with Aloha VR, a non-invasive program designed to reduce stress and anxiety. Aloha VR can enrich seniors' lives by surrounding them in an immersive, relaxing environment.
Based on GPU technology, Aloha VR can help seniors avoid regular trips to the hospital and expensive medical bills. The more patients engage in their virtual world, the less time they spend experiencing, thinking and worrying about pain.
To learn more about how GPU-powered technology is advancing medicine, check out NVIDIA's 2016 Sustainability Report.
Photo credit (top): Bioflight VR.