"Know your lemons."
When it comes to raising awareness about breast cancer and other forms of the disease, creativity counts.
The "lemons" catchphrase is a keystone to a campaign led by Worldwide Breast Cancer to lessen taboos around the human body and teach women, and men, in all cultures across all levels of literacy about the signs of breast cancer.
This creativity earned Worldwide Breast Cancer one of four $50,000 grants that the NVIDIA Foundation is awarding to nonprofits providing cancer care and support services.
The others include nonprofits leading an innovative funding program to provide no-cost cancer treatments in Kenya; a music therapy program for kids with cancer; and a palliative care program aiding some of the poorest people of India.
The NVIDIA Foundation, our employee-led corporate giving arm, grants $200,000 each year to four groups around the world as part of its Cancer Care grant program. This effort is part of the Foundation's Compute the Cure initiative to advance the fight against cancer. Through grants and employee fundraising, Compute the Cure has directed more than $2 million to cancer-fighting causes since 2011.
More than 50 organizations submitted proposals to win a Cancer Care grant. They were evaluated and narrowed to eight finalists by a group of three dozen NVIDIA employees. NVIDIA employees worldwide then voted for their top choice. The NVIDIA Foundation board selected the other three winners. Learn more about them below.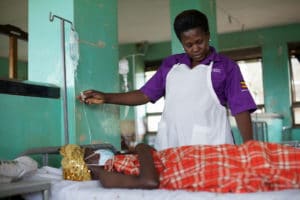 American Cancer Society – Kenya
Radiotherapy wait times for cancer patients seeking treatment in public hospitals in Kenya are longer than 18 months because of the limited number of machines. Currently more than 1,500 patients are waiting for treatment. The NVIDIA grant will be used to support a subsidized, no-cost radiotherapy treatment program at a private Nairobi hospital for Kenya's most medically vulnerable cancer patients.
Children's Cancer Research Fund – United States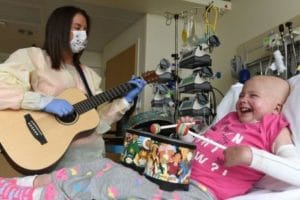 Chemotherapy and radiation treatments often leave pediatric cancer patients dispirited. Music therapy has been proven to be one of the most effective ways to decrease suffering from pain, nausea, anxiety and other symptoms. The Music Therapy Program at the University of Minnesota Masonic Children's Hospital helps ease the pain and improve the mood of young patients. The NVIDIA grant will be used to expand the hospital's music therapy program, serving an additional 700+ patients who come for treatment.
Pain Relief and Palliative Care Society – India
Employee Choice Winner
Many cancer patients arriving at Hyderabad's MNJ Institute of Oncology, a public hospital serving the poor across two states in India, come with late and untreatable stages of the disease. About 70 percent need referrals for palliative care. The Care Society serves them through home-based and inpatient hospice care. NVIDIA's grant will be used to run the organization's 24-bed hospice facility to provide pain relief and end-of-life care for about 750 adults and children for one year.
Worldwide Breast Cancer – Global
Breast cancer is the leading cause of cancer death among women worldwide, yet it has a high cure rate when detected early. Women most at risk often don't report symptoms because of a lack of awareness, low literacy, cultural taboos and fear. The #KnowYourLemons campaign relies on a graphic of a familiar image, rather than text, to increase breast cancer awareness. The NVIDIA grant will be used to fund the development and printing of educational kits and websites in 10 additional languages to reach hundreds of thousands of women worldwide.