Some kids are fascinated by spaceships and flying machines. Others spend hours building model airplanes. Or memorizing names of their favorite spacecrafts.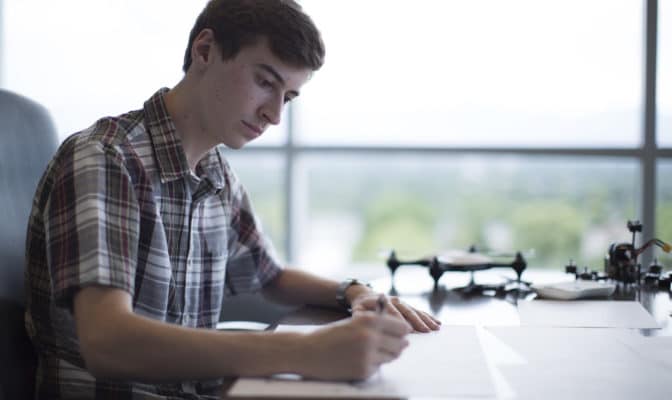 But only one kid has built a drone at age 14, won a fellowship from a tech investor at age 17, and a year later launched a record-breaking product under his own company.
Meet George Matus, Jr., a lifelong flight enthusiast, former teenage world champion drone pilot, Thiel Fellow and CEO of Teal Drone. At age 18, George rolled out his company's first product, which happens to be the world's fastest production drone, capable of flying 85 mph.
"Teal," as Matus put it, "is the realization of a dream."
Powered by NVIDIA Jetson TX1, Teal is an airborne supercomputing platform. The drone, which will be available soon, will ship fully assembled with the onboard flight control Follow-Me feature, which allows the drone to autonomously follow a person. Plus it comes with a partially charged battery so you can immediately unbox Teal and start having fun.
Matus is focused on making drones fun and useful to a wide variety of customers. The drone is built with a wide-angle camera so users can capture 4K video and 13-megapixel stills. Teal is going all-in on user-friendliness, with multiple modes for beginners and "hardcore racers" alike, and the ability to control Teal from a smartphone, tablet or hobby controller.
Priced at $1300, Teal comes with its own software platform, Teal OS, and an SDK to encourage a new class of flying apps that use machine learning, autonomous flight and image recognition. The SDK gives full access to Jetson TX1's visual computing power, as well as onboard USB expansion ports.
Speaking of hardware, other key specs include:
Onboard camera: 13MP wide field of view & 4K video
16 GB internal storage
microSD card slot
Onboard GPS/GLONASS navigation with Differential and RTK GPS (a first for production drones)
Flight range: 300 ft (using mobile device) / 2,500 ft (via Wi-Fi extender)
Capable of flight in 40+ mph winds
Water resistant
Ships with two fast-charge batteries
Optional Endurance Package doubles flight time
Measuring just 261mm on the diagonal, a fully assembled Teal is small enough to fit in a standard backpack. And did we mention this drone can fly 85 mph?
Teal Drones is taking pre-orders now. For more information, head over to the Teal Drones site.