Managing extreme pain was Sam Brown's goal when the U.S. army lieutenant faced months of treatment for burns covering nearly one-third of his body. But he wanted to avoid taking large doses of narcotic drugs, or opioids.
To help him, doctors managing medical care for him offered an unusual therapy: virtual reality.
"Pain is a huge problem in this country, and the overuse of narcotics to treat pain has lead us down the slippery slope to an opioid epidemic," said Howard Rose, whose startup, DeepStream VR, focuses on pain management using VR.
"VR addressed the anxiety and helplessness that turn pain into suffering. We design our VR experiences specifically for the biggest health benefit," Rose said. "Our research shows that having a high quality VR experience is key to fully immerse the body and the brain for the best pain relief.
Rose has spent more than two decades building virtual worlds for health and therapy. "This new wave of powerful and affordable graphics processors finally enables us to bring the huge benefits of VR to everybody on this planet. That's incredible," he said.
For patients, "you need high-quality VR that allows their brain, eyes, and body to relax," Rose said.
Snow-Covered World
Brown was badly burned in Afghanistan when his Humvee exploded after hitting an IED. During rehab, he was keen to try non-drug dependent therapies.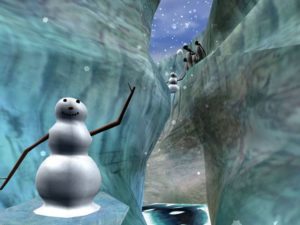 In SnowWorld VR, Brown, after donning a headset, takes a virtual path through an icy canyon populated by snowmen, penguins, igloos, fish and prehistoric mammoths.
Moving through the snow-covered world, he can toss snowballs at what he sees with the click of a mouse.
Co-created by David Patterson, a psychologist at the University of Washington, and fellow psychologist Hunter Hoffman, with assistance from Rose and his team SnowWorld became an effective pain-management tool for patients like Brown.
Their other collaborations included SpiderWorld, to treat arachnophobia, and IraqWorld, to help treat veterans with post-traumatic stress disorder. Rose also built Attack of the S. Mutans!, a game aimed at helping children improve their tooth-brushing habits.
Virtual Reality for Pain Relief
Brown's story highlights one patient's success, and could help lead to wider spread adoption.
VR can help reduce patient pain by up to 70 percent during treatment, according to an independent study by Ted Jones and James Choo, of Pain Consultants of East Tennessee in Knoxville, and Todd Moore, of the University of Tennessee.
They used DeepStream VR's pain relief application COOL! in their study. Benefits of VR treatment can last up to 48 hours.
Better yet, "VR is more accessible than it's ever been," Rose said. The launch of Oculus Rift and HTC Vive earlier this year is putting VR within reach of consumers, and medical groups benefit from that.