Learn to build a self-driving car. Train your computer to automatically detect cancer. Find your way around a deep neural network.
To get started in deep learning, sign up for courses with the NVIDIA Deep Learning Institute, which provides training to help people apply deep learning to solve challenging problems. Last year alone, the institute delivered more than 16,000 training hours to help data scientists and developers master this burgeoning field of AI.
The institute's instructors include NVIDIA's own deep learning pros, as well as experts from our partners – online educators Coursera and Udacity. We're also teaming up with Microsoft to teach deep learning for robotics.
"Deep learning is affecting a broad range of industries, and we're seeing huge demand for people with the skills to apply the new technology effectively," said Mark Ebersole, director of the institute.
80+ Instructor-Led Workshops in Months Ahead
In the next four months alone, developers can take more than 80 instructor-led workshops and hands-on labs offered around the world. They'll learn the basics of deep learning, how to build and deploy a neural network, and how to apply this knowledge to real-world problems.
These initial sessions will be offered primarily at our GPU Technology Conferences taking place in eight cities, which started this week at GTC China. The institute website lists a full schedule of deep learning training workshops.
"We want to share all our knowledge about deep learning with the world so others can create amazing things with it," Ebersole said.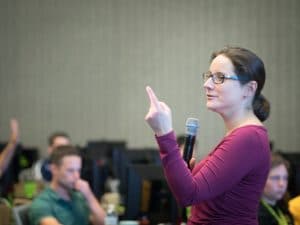 Build a Car that Drives Itself
The Deep Learning Institute is partnering with Udacity to teach people how to become self-driving car engineers.
The curriculum was designed by Udacity, NVIDIA and other partners. Registration opens Sept. 13 and classes begin Oct. 13. Those who complete the course will receive a Udacity nanodegree.
"There is an enormous market for self-driving car engineers," says Udacity co-founder and self-driving car pioneer Sebastian Thrun. "Lots and lots of companies that you wouldn't expect are entering the field and are massively hiring."
Teach a Robot to Think
NVIDIA is collaborating with Microsoft on a hands-on workshop about how to use deep learning to create smarter robots.
Participants will learn how to train a deep neural network on the Microsoft Azure cloud computing platform. They can then deploy the trained network on the NVIDIA Jetson TX1 embedded computing platform.
The trained robot will chart a course to an object and avoid running into obstacles in its way.
Transform Healthcare with Deep Learning
The Deep Learning Institute is also teaming up with Coursera to create a series of courses on how deep learning is poised to transform healthcare.
Deep learning can help doctors make faster and more accurate diagnoses. It can predict risk of a disease in time to prevent it. It can help researchers understand how genetic variations lead to disease.
Engineers and data scientists who want to make a difference in this fast-growing field can learn how, and join the other 21 million registered learners Coursera serves around the world.
Sign up for the Deep Learning Institute newsletter for updates on workshop availability.
Want to take a deeper dive into the technology of Deep Learning? Get started with our "Deep Learning in a Nutshell" series on Parallel Forall: