NVIDIA and Taiwan's Industrial Technology Research Institute (ITRI) will begin a joint deep learning development effort to advance autonomous driving and service robots.
ITRI announced at our GTC Taiwan conference this week that it will bring its self-driving technology to Taiwanese transportation companies in 2018 for autonomous shuttle services able to move passengers around airport terminals, amusement parks, cities and train stations.
"ITRI and NVIDIA will integrate the strengths from both parties in hardware and software," said Hu Jwu-Sheng, general director of mechanical and mechatronics systems research laboratories at ITRI.
Our effort with ITRI, Taiwan's largest multi-disciplinary technology research institute, builds on our work to provide everything from deep learning infrastructure to developer tools to sophisticated SoCs for the global auto industry.
That includes Taiwan: in May, Taiwanese carmaker Luxgen Motor Co., adopted NVIDIA's Tegra mobile processor for its S3 sedan's infotainment system.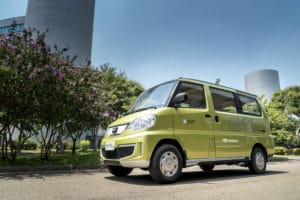 Helping to build autonomous vehicles and robots for the Taiwanese market is a logical next step. ITRI's latest prototype vehicle is powered by NVIDIA DRIVE PX 2, the world's first AI car computer platform.
DRIVE PX 2 uses input from up to 12 video cameras – as well as lidar, radar and ultrasonic sensors – to recognize objects and compute the optimal driving path.
The big idea, Hu explains, is to aggregate data from self-driving cars to the cloud, so vehicles can learn from one another via a shared deep-learning platform.
From Roads to Robots
We're also working with ITRI to create robots with new levels of autonomy. The story behind the story: at first we engaged with ITRI to develop self-driving cars, but the relationship quickly expanded, with Hu assigning another team focused on robotics to work with us on deep learning, production picking in industrial settings and service robots.
The aim, Hu says, is not just to improve the capabilities of industrial robots, but to use deep learning and AI to create service robots with the skills needed to work with people.